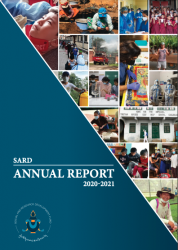 SARD is delighted to share its Annual Report for the fiscal year 2020 -21. The programs and
activities implemented in the year continue to align with the aims and objectives of SARD that is
focused towards the development of the Tibetan community and efforts towards self-reliance
of the community in the long term.
The Wuhan originated COVID-19 continued to cause an incomputable loss of lives and suffering
all across the globe. The second wave of the pandemic in India has had a large-scale impact on
the livelihoods and economic development of the nation including the Tibetan community.
The pandemic also had a ripple effect on the implementation of various programs of SARD,
however SARD under the direction of the Kashag was able to redirect significant amounts of
funding from the donors for Covid Emergency relief related activities.  The emergency medical
supplies and equipment were procured for the Hospital, Primary Health Center and Clinics,
Quarantine centers were set up in the settlements, food security in the form of dry rations
were provided for the poorest of the poor living in the settlements and stipends to the less
privileged and vulnerable members of the Tibetan community.
After many years of discussion and exploration, in the last fiscal year, SARD was able to kick
start the Chatrel (Green Book) online payment project with the technical support from a
Mumbai based IT firm. A Chatrel payment website and web admin portal were developed. The
phase 1 of the project was piloted for the Tibetans living in New York & New Jersey in the
United States and Ontario in Canada and aim replicate the success across other North American
states and gradually to other countries.
Given the evolving role and responsibilities of SARD, in the past year, SARD developed a five-
year Strategic Plan which outlines the overarching strategic initiatives that need to be
undertaken by SARD to transform itself and play the role of a nodal strategic unit for the
Central Tibetan Administration (CTA) in its development efforts for the Tibetan Community.
We express our deepest gratitude to all our funders, partners and supporters.
SARD Director
Tashi Wangdue