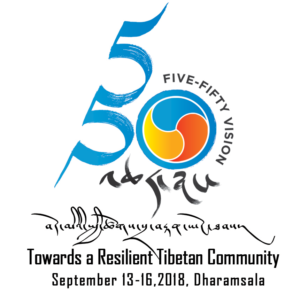 DHARAMSALA, September 10, 2018: The Central Tibetan Administration (CTA) is convening the Five-Fifty Forum: Towards a Resilient Tibetan Community. The Forum will be held in Dharamsala from September 13-16, 2018. The Five-Fifty Forum on Resilience is a follow on to the political gathering convened in October 2017 and the youth gathering in August 2018. It focuses on the development and long-term resiliency objectives of the Five-Fifty Vision.
The Forum will bring together over 200 experts, advisors, practitioners, donors, community representatives and CTA leadership and senior staff to discuss critical development and resiliency challenges and opportunities in the Tibetan community and explore innovative ideas and solutions.
The Forum themes are:
Sustaining Tibetan Culture
Economic Development of Tibetan Community
Strengthening Tibetan Education
A Healthier Tibetan Community
Under culture, the Forum will address topics related to defining Tibetan culture, Tibetan language, Tibetan Buddhism, the role of museums and cultural institutions, and Tibetan arts. Economic Development will focus on migration and youth-related issues, agriculture, financial services, entrepreneurship and role of Tibetans living overseas. Education will address quality of education issues, school leadership, demographic challenges, Basic Education Policy and nurturing professionals. Health topics are health challenges faced by the Tibetan community, financial stability of the Tibetan health system, capacity building, expansion and integration of Sowa Rigpa (Tibetan Medicine), and alternative service delivery modes and preventive care.
The Forum is being organized by the Social and Resource Development (SARD) Fund, Department of Finance and is part of the Tibetan Self-Reliance and Resilience (TSRR) program funded by USAID.