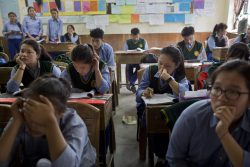 June 10, 2019 – The Women's Empowerment Desk (WED) under SARD, Dept. of Finance is initiating a pilot Safe Space program aimed at creating a safer space in Tibetan community as a whole and women in particular around issues related to sexual and gender based violence (SGBV). The concept of safe space is about providing a safe space physically, socially, emotionally, legally and medically. It includes comprehensive services such as legal aid, medical aid, financial aid, trauma management for the victim/survivors. It also involves setting up a larger system in place to intervene and create a responsive approach to tackle the issue of SGBV in the Tibetan community.
The various activities under the pilot program will include a SGBV guidelines development, developing a training manual development, a Master Trainers Training, setting up a committee, establishing and operating a Helpline and a redressal mechanism.
Given the importance of this program, WED has entered into a partnership agreement with The Tibetan Women's Association (TWA) based in Dharamsala. WED with support from external consultants will support TWA in establishing a SGBV helpline and its operation. An SGBV protocols will be developed to operate the helpline along with a help desk dedicated to receiving SGBV cases in the Tibetan Community. The helpline will have a specific number, which will be circulated widely in the community so that it can be accessible to as many people as possible. The system will be supported by IVRS (Interactive voicemail recording system) after office hours where the calls will be recorded. A physical safe space will also be set up to provide temporary shelter as well as sustenance funds for SGBV survivors .
The partnership is made possible by funding provided by USAID through the TSRR Program