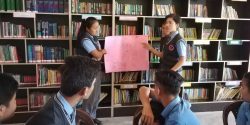 On March 14-15, 2019, CTA's Women's Empowerment Desk (WED) organized orientation workshops on PSEA (Prevention of Sexual Exploitation and Abuse) and Government of India's POCSO (Protection of Children from Sexual Offences) Act of 2012 to the teaching staff (junior and senior section) at TCV Suja. WED in collaboration with the students also carried out a school safety audit to identify the gaps in regards to safety and security at the school as felt and understood by the students
The activities at TCV Suja is part of a larger WED program to prevent gender based violence (GBV) and sexual exploitation and abuse in Tibetan settlements and schools in India and Nepal. In India, WED is partnering with Catholic Relief Service (CRS) based in Chennai, which has extensive experience working on refugee and protection programs in India and globally. The India program focuses on raising awareness and changing attitudes that perpetuate GBV and SEA and include activities to strengthen community structures and referral systems. Interventions are targeting individual, family and community levels, to build an enabling environment for behavior change. The program is working in 3 schools (2 residential schools – TCV Suja School in Bir settlement, THF Mussoorie, and 1 nonresidential school – CST CVP Bylakuppe) on SEA and in 1 settlement, Dickyi Larsoe settlement in Bylakuppe, on GBV, to pilot approaches that can potentially be replicated in other settlements and schools in the future.
WED will institutionalize PSEA in three schools in India reaching approximately 2,703 students by 2020. Two gender focal persons (GFP) are being identified in each school. In India, GFPs are facilitating and supporting several activities: Journey of Life workshop – a one-day mobilization and planning methodology that informs the drafting of PSEA policy and procedures to be maintained in the schools; Safety audits by students – guided by GFPs, students will conduct safety audits to assess and identify risk factors related to abuse and exploitation of children in their schools. Risks identified will inform action plans to create a safer environment for children; Formation of Task Force – key members of the school staff will be identified as Task Force representatives to draft, finalize and implement a set of PSEA policy and procedures in consultation with all stakeholders in the school; Tree of Life – a psychosocial support tool is being used with children to build their confidence to report protection issues and seek support.
The Task Force and GFPs of schools in Dickyi Larsoe settlement will conduct positive parenting sessions that assist parents to understand abuse, violence and exploitation faced by children. The project will adapt and use existing modules proven successful under the PRM-funded project for Sri Lankan refugees implemented by CRS. WED and CRS will also conduct life skills education sessions in 2019/20 with students from CST CVP Bylakuppe, focusing on promoting core life skills such as problem-solving, decision making, critical thinking, communication skills, interpersonal skills and coping with stress. Activities in the settlement will seek to improve men and women's knowledge, attitudes and practices towards GBV and SEA.
The above WED program on SGBV and PSEA is funded by PRM.