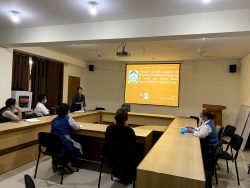 The Women's Empowerment Desk (WED) under the Department of Finance (CTA) has published the CTA's Guidelines for Prevention, Prohibition and Redressal of Sexual and Gender Based Violence (SGBV) for the Tibetans in exile earlier this month.  The CTA is committed towards the elimination of the SGBV in all spaces of the exile Tibetan community and has adopted a 'ZERO tolerance' policy for any such incidents in the community. As a step toward the fulfillment of this commitment this guidelines was developed. This guidelines acts as a tool to provide practical assistance on the establishment of a coordinated approach for the prevention and mitigation of SGBV. The Guidelines also details the essential steps and interventions required to respond to the needs of the survivors/victims of these types of violence.
The WED 2019 report on the status of Tibetan women in India and Nepal strongly indicate the existence of Sexual and gender based violence in the Tibetan community and how lack of intervention on SGBV issues led to less number of reporting and viewing the SGBV issue as an private issue. These findings provided for the formulation of programs to address these issues. As such WED has initiated a program on SGBV Prevention and Response whereby the SGBV guidelines was developed and published. The program aims to create a Tibetan community free of sexual abuse and exploitation with justice at the centre of its relief and development work.
The CTA's SGBV guidelines were mandated and approved by the Kashag of CTA. WED aims to orient all the stakeholders and members of the community on the importance of and implementation of the  guidelines.