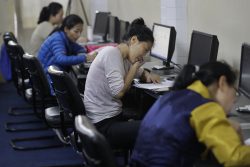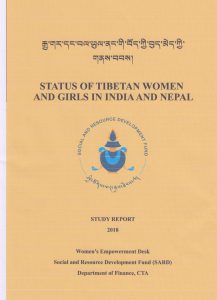 April 23, 2019: Women's Empowerment Desk (WED) published a report on an assessment study conducted on the status of women and girls in Tibetan communities in India and Nepal in 2017/2018. The study was led by external consultants with experience in gender issues and public policy along with SARD & WED staffs and eight field officers. The objective of the study was to understand the aspect of traditional gender stereotypes and social attitudes toward the role of women at home, workplace and society; participation and inclusion of women and their perspectives in community decision-making; community awareness and education on issues of gender equality, sexuality, and sexual health and Sexual and gender-based violence (SGBV). The study also included more complex parameters such as mobility, Violence Against Women (VAW), access and control, reproductive rights, decision- making and political participation. The study methodology involved a participatory approach of data collection and Focus Group Discussions (FGDs) as well as interviews. Around 2,000 people, including students, teachers, community members, monks and nuns, women and men above the age 15 from India and Nepal participated in the survey and FGDs.
The report states that the social attitudes towards women both in the public and private sphere are influenced by the norms of patriarchy. While women tend to be the decision makers within the private sphere, men were more dominant in the public domain. Though many women are visibly active in the community, they undermine the value of their own inputs, fearing that taking a gendered lens would create conflict with their male counterparts. Thus incorporation of women's perspectives in community decisions is negligible. There is also lack of wide spread awareness on gender equality issues, so the community fails to understand the basics of gender or gender-related concerns.
Sexuality is another topic highlighted in the report. Though there have been awareness workshops in some schools, sexuality is often unaddressed and grouped under sexual health. The report brings to the fore that there is evidence of SGBV. While within the purview of the family, it is much more seen as domestic violence rather than gender based violence. This form of violence was admitted by the respondents and the discussants in many locations. Similarly, in education institutions, there have been instances of sexual harassment which the girls are hesitant to report as they feel no action will be taken, as this has happened. The report recommends that SGBV committee be set up in schools so that students can seek support.
The report has been helpful in informing the work of WED and several of its recommendations are already being implemented as WED has ramped up its work and launched new initiatives including development of safe space and SGBV manual development and training.
Women's Empowerment Desk, under SARD, Department of Finance, CTA works to ensure that CTA's Tibetan Women's Empowerment Policy is properly and effectively implemented.
Funding for the assessment and publication of the report was provided by USAID through the TSRR Program.
The complete report can be downloaded from the SARD website