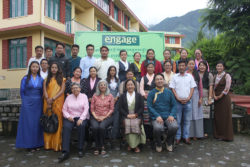 The Modern Academic Section of the Department of Education initiated a workshop on teacher's professional development. As per its proposal, it was a 2-day Engage Learning Teacher Professional Development Workshop. Accordingly, the first workshop was organized on the 8th of August at Administrative Training and Welfare Workshop, Dharamshala.
The event saw the presence of chief guest Education Kalon Dr. Pema Yangchen accompanied by Mrs. Heeru Bhojwani, Resource Person of the workshop and Mrs. Lata Vasvani, Sales and Marketing Director of Engage Learning Pvt Ltd who conducted the workshop.
Similarly, teachers from 12 different Tibetan schools in Diaspora had attended the workshop. Schools such as STS Miao, STS Ravangla, Petoen School, TCV Chauntra etc.
Mr. Tenzin Dorjee, Head of Academic Section, DoE opened up by briefly touching upon the event and the objectives of the workshop. Such as, enable the teachers to participate in various activities that are outlined in the July Teaching Guides (TGs) and enable them to learn several strategies that can be transferred to various subjects.
Then Education Kalon, Dr. Pema Yangchen addressed the gathering, emphasizing on adopting an 'authentic learning experience' which becomes a crucial entity in building a community of learners. She further urged the participant teachers on integrating their teaching skills and knowledge in not just their own subjects but various other subjects as well. To help support her statement she cited an example of 'the diary of Anne Frank.' Education Kalon explained how a history teacher could teach the same content through its historical context thus creating an interesting yet authentic learning experience for the students.
Due to today's rapid generation where technology is overtaking many learning and teaching experiences, Education Kalon urged the teachers to focus on adopting a different approach of learning and teaching with no involvement of technology usage.
"We teach who we are" quoted Education Kalon and appealed all the teachers present to embody good moral values in their everyday teaching.
In her concluding speech, Dr. Pema Yangchen on behalf of the Department of Education expressed her best wishes to all the participants for a successful implementation.
Following Education Kalon's speech, Mrs. Lata Vasvani and Mrs. Heeru Bhojwani both gave a short speech mainly highlighting the roles and responsibilities of teachers and how they can create a meaningful connection with the students to further create a community of learners.