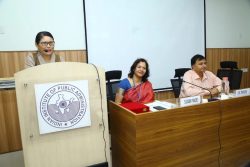 IIPA, New Delhi: A weeklong residential training programme on 'Transformational Leadership' for Joint Secretaries, Additional Secretaries and Secretaries of Central Tibetan Administration was inaugurated earlier today at the Indian Institute of Public Administration in New Delhi.
The inaugural ceremony was presided by Shri. S.N. Tripathi, Director of IIPA, Dr. Surabhi Pandey, the programme director, Shri. Jaswant Singh, Asstt. Liaison, Shri. Shiv Charan, Training Assistant and Mrs. Tsering Yangkey, Secretary of the Public Service Commission of CTA.
Dr. Surabhi Pandey welcomed the dignitaries and the 17 participants from CTA. She said the weeklong training is specifically curated for higher officials in public administration and focuses nurturing their transformational leadership qualities.
The training module include exercises of Team Building, Emotional Intelligence, Time Management, Leading Organizational Transformation, Effective Communication: Gaps & Barriers, Decision Making strategic Thinking, Innovation & Creativity, Ethics in Governance, Understanding Self: Psychometric Test, Social and Emotional Intelligence, Gender Sensitization and Self Transformation.
Shri. S.N. Tripathi addressed briefly on the program's significance and impact. He later offered souvenir to Secretary Tsering Yangkey and expressed gratitude for the close partnership between IIPA and CTA.
He wished for the success of the programme and expressed hope that the participants will go on to become transformational leaders in future.
PSC secretary expressed gratitude to the dignitaries and IIPA faculties for conducting such valued based programme and congratulated the participants. She also offered mementoes to IIPA director and the programme coordinator.
Filed by Public Service Commission