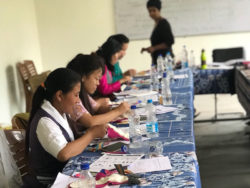 The topic of menstruation is taboo to many Tibetan and Nepali women and is not heavily focused on as it is not openly discussed in their communities. Due to their lack of knowledge about menstrual health and hygiene, they have been ignoring their reproductive health and undermining the natural body process. In the interest of these women, the Women Empowerment Desk (WED) under SARD, Department of Finance, CTA has implemented a pilot Menstrual Health and Hygiene Program (MHHM) which aims to empower Tibetan and Nepali women and educate them about their female body parts.
Twelve health workers/educators from India and Nepal took part in the program that lasted four days from 1-4 May 2018. The topics discussed include female biology, cycle tracking, normal and abnormal periods, hygiene, diet, product analysis, and more. These participants trained to be facilitators to lead the MHHM health talks and to train other prospective facilitators.
The training was facilitated by Eco Femme, an organization founded in India making ecofriendly feminine hygiene products such as washable cloth pads. Eco Femme's goal is to help women adapt eco-friendly and empowering menstrual practices. They do so by providing healthy feminine hygiene alternatives, menstrual health education to adolescents, and open dialogues on menstruation.
The first day started with the WED coordinator highlighting the objectives of this program and continued with an open discussion about the participant's personal experiences and views on menstruation. Eco Femme provided guidebooks to the participants that focused on health, culture, environment, and self-worth in relation to MHHM. This was followed by yoga, dinner, a movie, and questions and clarifications.
The next day, the trainees observed the current facilitator's session held with an audience of 20 school girls on MHHM. Then, the trainees began their preparations for the following day, in which they were split into two groups to hold similar sessions at the Gopalpur school and Dolmaling nunnery.
The third day, the sessions took place. The girls at the school were nervous and anxious but the trainees maintained their composure and the presentations proceeded smoothly.
The last day was a reflection day in which the trainers gave feedback to each trainee and asked for feedback on the program. The MHHM concluded on 4 May 2018 with a thank you note from the WED coordinator to everyone who helped and participated.