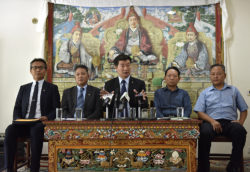 SARD and The Department of Finance, Central Tibetan Administration, organised a press conference on May 22, 2018 to launch the second year of the Tibetan Refugee Livelihood Support Program (TRLSP). As part of the program, SARD will provide amounts worth a total of Rs 21 Crores (210 Million) at a minimal 4% interest rate to support livelihood of the most vulnerable, needy, and unbanked members of the Tibetan community.
CTA President Dr Lobsang Sangay, Finance Kalon Karma Yeshi and Chief Planning Officer Dr Kunchok Tsundue addressed the press conference, which was held at the Kashag Secretariat. Others at the press conference include Finance Secretary Trinley Gyatso and Chief Resilience Officer Kaydor Aukatsang.
The pilot program in 2017 was successful in that it provided support to over 900 sweater sellers, including 378 Tibetan women. The amount given to the borrowers was 100% fully recovered. The TRLSP program in 2018 will help 1,525 Tibetans (residing within the 45 Tibetan settlements in India) by providing them packages from Rs 1 Lakhs to Rs 6 Lakhs which will be implemented between June-August of this year. The total amount for the program is increased to Rs 21 Crores this year. Besides sweater sellers, three additional beneficiary groups have been included in the program which include those selling trinkets on pavements in tourist destinations, those raising horses and mules for traditional caravan services, and those running taxi services.
The program is funded by USAID and is implemented by SARD with cooperation from the Tibet Fund.