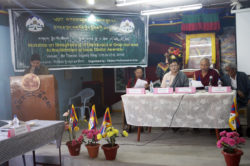 Central Tibetan Administration's (CTA) Tibetan Parliament-in-Exile held two Local Tibetan Assembly (LTA) workshops, one in Bir from 17 May to 21 May 2018 and another in the Paonta Cholsum Tibetan settlement, Bhuppur, Paonta Sahib (HP) from 21 May to 25 May 2018.
The LTA workshop in Bir was the third workshop arranged by the Tibetan Parliament-in-exile for LTA members. The event was attended by 68 participants from 7 different settlements including Tibetan Settlement Officers from Bir Tibetan Society, Bir Dege, Bir Nangchen, Dalhousie, Kullu-Manali, Mandi, and Lily village. The resource persons for this workshop are Tibetan parliamentarians Geshe Monlam Tharchin and Gyarik Thar Lukhang.
The second workshop was held at Paonta Sahib. 64 participants, including members of LTA and Tibetan Settlement Officers from Dekyiling Tibetan Settlement, Dehradun; Yangchen Gatseling Tibetan Settlement, Shimla; Sakya Tibetan Settlement, Puruwala; Sataun Kathok Tibetan Settlement, Sataun; Tibetan Bhonpo Settlement, Dolanji; Doegu Yugyaling Tibetan Settlement, Herbertpur; Kamrao Tibetan Settlement, Kamrao; and People Representative of Tsering Dhondhen Tibetan settlement under the jurisdiction of Dehradun Tibetan Settlement, engaged in this workshop.
The workshop's objective is to improve LTA members' skills towards strengthening democracy at grassroots level and to expand their knowledge on rules and regulation of the parliament proceedings and annual budget accounting. The topics discussed were the charter of the Tibetan-in-exile; parliamentary proceedings; structure of CTA; CTA's income and expenditure; budget allocation and guidelines; and electoral rules.