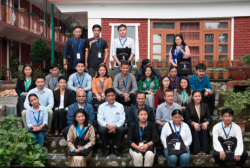 Dharamshala: The Tibetan Career Center (TCC), a unit of Youth Empowerment Support of the Department of Home convened its first-ever Youth Empowerment workshop for the school and college students today at Peace House, Upper TCV School.
The week-long workshop is attended by 20 participants from 11 different Tibetan settlements in India.
The workshop aims to provide the students with step by step counseling and strategies to face the challenges of choosing a career by seeking advice and guidance from people with experience. The students will be given a range of different activities and assessments to improve and enhance decision-making skills and techniques.
Chief Guest at the inaugural ceremony was Secretary Wangdu Tsering Pesur of the Department of Home. The workshop will be led by two principal trainers from Bangalore- Mr. Sunil Girdhar and Mr. Nalin Singh.
Chief Guest Wangdu Tsering in his inaugural remarks talked about the importance of making a right and informed decisions when choosing a career path for oneself. He also noted that having a backup career option is wise and advisable in case one do not achieve their dream job.
"However, whatever you choose to do must be done with conviction and dedication," said Secretary Wangdu Tsering Pesur and encouraged the students to abandon the fear of failure and self-doubt.
He further remarked that the present generation is in every way more privileged and liberated than the generation before therefore, he urged them to work hard with sincerity and humility. He also noted that the Tibetan community as of yet isn't self-reliant enough and emphaised that a palpable change needs to be brought by the younger generation.
Finally, Secretary Wangdu Tsering Pesur appealed the participants to avail the benefits of the workshop in the best way possible and further share the knowledge and skills learned from the workshop with others.
The week-long workshop will conclude on 14 September 2019 and the workshop is funded by USAID.