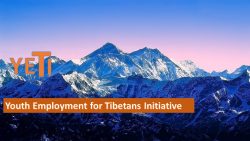 Dharamshala: The Tibet Innovations in collaboration with Tibetan Entrepreneurship Development (TED), Department of Finance, CTA and Tibet House Trust, London launched the 'Youth Employment for Tibetans Initiative'—a major initiative aimed at creating employment for Tibetan youths living in the Tibetan settlements across India.
The Youth Employment for Tibetans Initiative (YETI) is a business contest aiming to find a Tibetan entrepreneur with the vision and skills to create a sustainable business that will employ young Tibetans in a settlement community. Sponsored by the Tibet Innovations, prize money of 1 Crore (10 million rupees or approx. $142,780 USD) will be awarded to the winning proposal on October 25, 2019.
The YETI project is inspired from the concerns expressed by His Holiness the Dalai Lama regarding the outflow of young Tibetans from the settlement camps in South India and the adverse effects this was having on the culture and viability of these vulnerable communities.
Launching the Initiative here in Dharamshala, Kalon Karma Yeshi, Department of Finance and Thubten Samdup, Director, Tibet Innovations addressed a press conference earlier today. Director Thubten Samdup is former Representative of the Office of Tibet, England.
In partnership with CTA's Tibetan Entrepreneurship Development, Tibet Innovations has launched a website providing details about the YETI competition, including eligibility requirements, an online application form, and resources needed to build a business proposal.
All aspiring Tibetan entrepreneurs are encouraged to submit their business ideas and take advantage of this once-in-a-lifetime opportunity.
To qualify to apply for the YETI funding project, you must meet the following eligibility requirements:
Be 18 years or older
Hold a current green book
The business must fulfill all the legal obligations of the local government
The judges who will rate the applicants come from the entrepreneurial community and will be asked to select the proposal that has the potential to create well paying employment for Tibetan youth in the settlement communities. Their ranking of the most promising applicant and business plan will be based on the following criteria:
Employment Generation – Creation of significant employment opportunities for Tibetan youth in the settlement camps. 
Business Model – A business model that is viable and feasible, including the thoroughness and quality of a market analysis.
Social Impact – How the business contributes to the Tibetan community-in-exile in areas such as education, health, environmental preservation, job creation and promoting Tibetan culture.
Sustainability – We interpret "organizational sustainability" in the broadest sense, meaning that the proposed business is not only financially sustainable but that it can be replicated in other communities.
The deadline for applications for the YETI competition is August 1, 2019. The application form (click here to view) and support documents must be sent to yet[email protected] and received by the competition deadline.
For more information, please visit the website: www.tibetinnovations.org