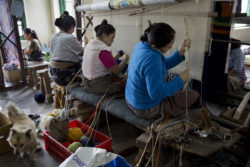 The Tibetan Entrepreneurship Development (TED) initiative was instituted by the Central Tibetan Administration (CTA) in 2014. TED aims to counteract the low Tibetan unemployment rates by providing end-to-end support for Tibetan entrepreneurs through a number of available resources including startup funding, pre-incubation training, business incubation, business plan development support, legal assistance, networking opportunities, and more.
The newest addition to TED is the Micro and Small-Medium Enterprises (MSME) initiative in which TED plans to match MSME's with technical training and business development services (BDS) to optimize profit and stabilization of MSMEs. TED will be working with M-CRIL, which has experience in non-financial and financial business development services and is responsible for advising and supporting the project to achieve the best results.
The initiative starts with a one-year pilot project where TED supplies business development support to 100 MSMEs in Mcleodganj/Dharamshala and Dehradun which began on May 21,2018 and ends on May 20, 2019. TED will visit each enterprise and arrange support including stocking policies and inventory analysis; capital requirement at enterprise level; cost analysis, logistics, and maintenance; display, customer relations, and marketing; enterprise management, financial performance, and business practices; and financial services. After the pilot is completed, it will be followed with a project-end evaluation where M-CRIL and SARD/TED/CTA will discuss the results of the project and decide on the future course of action. This initiative is being funded by USAID through the TSRR Program.