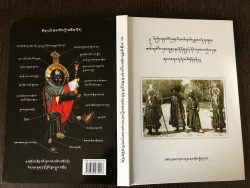 February 23, 2019: Sonam Wangdue la, a recipient of the Tibetan Arts and Culture Fund (TACF), a program of the Department of Religion and Culture, CTA, released his book Photographic Records of the Costumes and Masks of the traditional Tibetan Folk Opera- Ache Lhamo at the 24th Shoton Festival in Bylakuppe on February 20, 2019. Sonam la, received a TACF grant of INR3 lakhs in 2017 to work on his book project.
It was in Dharamsala in 2015 at the 20th Shoton Festival when Sonam la got an opportunity to work on a video on Tibetan traditional Folk show with funding from the Liverpool World Museum. He was always interested in taking pictures and when he learned that there aren't enough picture records of the Traditional Tibetan Opera, he decided to apply for funds from TACF to begin working on the photography book project.
The book has eleven chapters. Content includes pictures of masks used in Tibetan traditional folk opera, Ache Lhamo; important websites on traditional Tibetan opera folk masks and costumes; information on how traditional opera came into existence in Tibet; different types of masks and costumes; how the shoton festival came into existence and how it gained popularity in Tibet and Tibetan community.
The Tibetan Art and Culture Fund (TACF) is an annual small grants initiative to support Tibetan artists and organisations engaged in the conservation and promotion of traditional and contemporary Tibetan art and culture. The program, supported by funds provided by USAID and administered by the Department of Religion and Culture (DORC) of the Central Tibetan Administration provides grants ranging from INR50,000 to INR3 lakhs to support individuals and organisations that are keepers and practitioners of endangered Tibetan knowledge, skills and practices; and those engaged in efforts to broaden the audience for Tibetan language, art and culture.