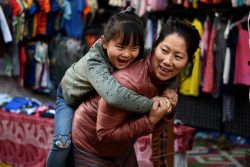 Women's Empowerment Desk (WED) under SARD, Dept. of Finance has conducted a study on Tibetan women entrepreneurs, specifically those participating in winter sweater trade last year.
 "Given the significant presence that women occupy in this economic landscape, this study thereby proposes to explore how women's roles in this particular economic geography shape these markets and how these markets in turn shape the lives of these women. Of particular interest is how these gendered roles intersect with community and reflect a reassertion of family and settlement life. By studying this specific economic terrain that Tibetan women occupy, this project seeks to get a better understanding of how broader issues such as safety and gender-disparity in leadership affect Tibetan women. Finally, this report will conclude its findings with potential suggestions on how to expand opportunities for women in entrepreneurial spaces. "
This short study was led by Ms. Tenzin Dolker Tsagong, who is the first American Indian Fellow (AIF) fellow at WED.