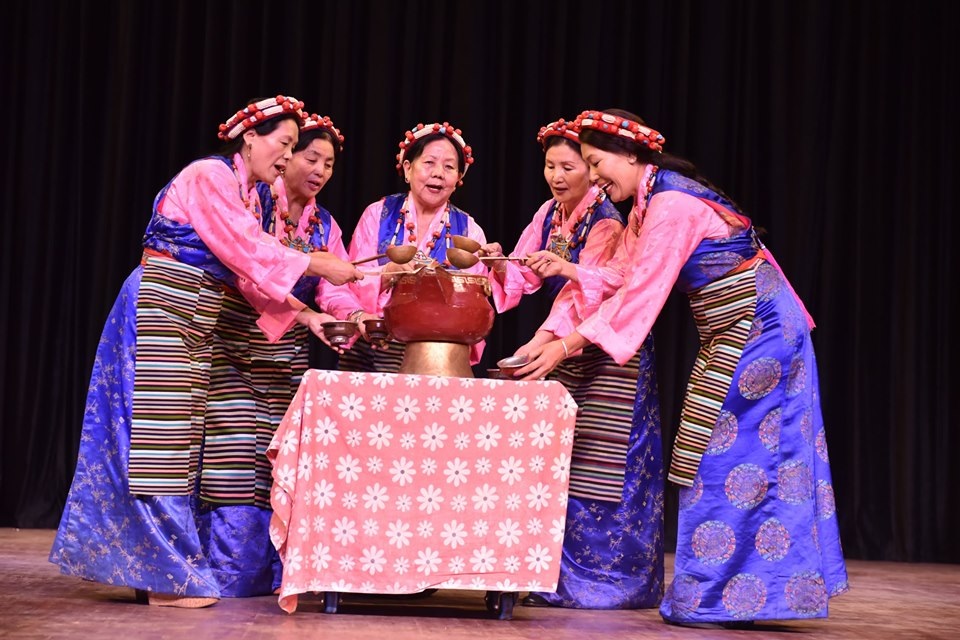 Dharamshala: For hundreds of years, Tibet has been celebrated as the Ocean of Songs and Dances (Glu gar gyi rgya mtsho). Tibet's musical heritage and its associated art as deeply immersed in the wisdom of Buddhist tradition and values have been passed down through generations. Each musical feature pertains to different unique occasions in the Tibetan cultural, social and religious lives; some celebrate the birth and teachings of great beings, some welcome the advent of the new year but all sprouting from the common wellspring of the Tibetan civilization.
This foundation was resurrected here in India, the land of Tibet's spiritual guru, under the guidance of His Holiness the Dalai Lama in the form of the Tibetan Institute of Performing Arts. Subsequent support and leadership were shown by many great artists and scholars of Tibet.
Through an undiluted transmission of traditional folk dance from Tibet's three provinces of Dotoe, Domed and Utsang, safeguarding and showcase of ancient costumes of Tibet, research and training in ancient music and its other significant activities, TIPA institute gained wide acclaim as the traditional Tibetan musical reference centre for students and academics.
The institute also carries forth the lesson and training in the tradition of Ache Lhamo or Tibetan opera. The highly trained professional artistes of the institute act as cultural ambassadors of Tibetan diaspora. Hundreds of graduates from this institute are now working as dance and music teachers in all Tibetan schools in India, Nepal, and Bhutan. Effectively functioning as a semi-autonomous entity, the academy is presided over by the Department of Region and Culture, Central Tibetan Administration.
Based in Dharamsala, the institute this year achieved its 60th milestone in preservation and promotion of Tibetan musical heritage; age-old folk music, opera and dance tradition of Tibet.
This historic moment was observed in the gracious presence of its founding father, His Holiness the Dalai Lama, and through a promising symposium of Tibetan and non-Tibetan intellectuals and scholars on the understanding of relevant interdisciplinary studies in Tibetan Performing Arts, secular or religious. 
TIPA's pioneering, former members and the current artists came together for a mega showcase of Tibet's performing arts. 
President of Central Tibetan Administration, Dr Lobsang Sangay with his 15th Kashag (Eng: Cabinet) members, Chief Justice Commissioner Sonam Norbu Dagpo, Justice Commissioner Karma Damdul, Public Service and Election Commissioner Wangdu Tsering Pesur, Secretaries of Central Tibetan Administration and Standing Committee Members of the 16th Tibetan Parliament, official dignitaries of Non-Government Organisations and scores of public attended the first of a kind cultural exposition. 
The cultural feature included performances of prominent exile artistes such as Techung, Tsering Gyurmey, Passang Lhamo among others. 
Catch some of the glimpses of Tibetan opera, age-old folk music and dance tradition of the three provinces of Tibet showcased by the most celebrated exile artists.