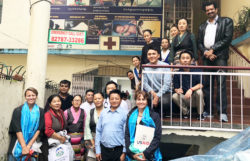 Dharamsala, August 23, 2018: A USAID delegation from the USAID Mission office in New Delhi visited Dharamsala from August 20-22. The delegation comprised of Mrs. Ramona El Hamzaoui, Deputy Mission Director; Mr. Arvind Kumar, Senior Project Manager; Dr. Umesh Alavadi, Senior TB Advisor; and Ms. Dawn McCown, Senior Communications Advisor.
The delegation met with the Health Kalon, senior program staff of the Department of Health, and SARD Director. The Health Department made a special presentation of the various health projects funded by USAID. They also visited the Delek Hospital, and spent a day at Bir. During their field trip to Bir, they met with the Settlement Officers at Bir and Chauntara and visited the settlement health clinics and also toured the nearby monasteries at Deer Park and Dzongzar Shedra. SARD hosted a dinner for the delegation on August 21st which was attended by the Finance Kalon, Finance Secretary, Chief Planning Officer, Chief Resilience Officer, Health Department Program Staff and Tibet Fund Deputy Director.
The highlight of the visit was a a brief audience with His Holiness the Dalai Lama on the morning of August 22.