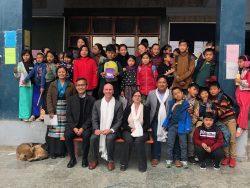 Dharamsala: A delegation of Population, Refugee and Migration (PRM) officials based in Kathmandu, Nepal visited Dharamsala from March 19-21, 2019. PRM is an agency within the US States Department and the delegation comprised of Mr. Alex Ave-Lallemant, Regional Refugee Coordinator; Dr. Leah Pao, Deputy Regional Refugee Coordinator; and Mr. Pema Tenzin, Regional Refugee Program Assistant of South East Asia. The main purpose of the visit was to meet with the PRM funded program stakeholders, visit some the project sites and meet with SARD and CTA leadership.
The delegation's three-day visit included visits to Upper TCV School, meetings with the Secretaries and senior staff of CTA's Education, Health, Home and Health departments, presentation by SARD, a visit to the Meow Peton School, meeting with Tibet Fund and a dinner hosted by SARD. During a lively interactive session with students at the Meow Peton School the delegation was peppered with questions from the young curious minds whose questions ranged from why the US government is helping Tibetan People, what is the US government doing to help those affected by violence in the Middle East to why the US is a rich country. Eventually the school Principal had to intervene due to limited time.
The delegation also met with Sikyong Dr. Lobsang Sangay. The Sikyong thanked PRM for its long and steadfast support of the Tibetan refugee community in India and Nepal and presented a CTA appreciation memento to Mr. Alex Ave-Lallemant who will be leaving PRM in May. The delegation were also special guests at the Tibetan Parliament where the Speaker and the members gathered for the Budget Session acknowledged their presence in the chamber. On March 21, the delegation also received a brief audience with His Holiness the Dalai Lama.
PRM has been one of the longest and biggest donors of the Tibetan refugee in India and Nepal. Since from 1991 they have been providing yearly grants between $2 to 3 million in humanitarian assistance. The overall goal of the PRM program is to protect and meet basic humanitarian needs of vulnerable Tibetan refugees in South Asia, enabling them to lead secure, healthy, and dignified lives in exile and increase their self-sufficiency. The PRM program supports the following four programs:
Protect Tibetan refugees against physical and legal insecurity, including gender-based violence (GBV)
Assist Tibetan refugees to meet their basic health needs
Improve water and sanitation infrastructure in Tibetan refugee settlements
Increase access to educational opportunities for Tibetan refugee students.
The visit was hosted by SARD