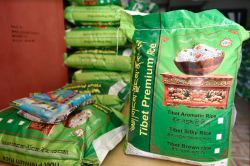 Dharamshala: The Tibet Rice Mill of Bhandara Tibetan Settlement, Maharashtra launched its flagship product, the Tibet Premium Rice today at a press conference in Gangchen Kyishong.
Speaking at the press conference were Chief Planning Commissioner of Central Tibetan Administration Dr Kunchok Tsundue, Additional Secretary of Department of Home Karma Choeying, President of the Bhandara Cooperatives Society Phuntsok Tashi and Secretary Tenzin Phende.
"The Co-operative Society of Norgyaling Tibetan Settlement has set up a rice mill with funding support primarily from The Dalai Lama Trust and the Central Tibetan Relief Committee. It was inaugurated by Kalon Sonam Topgyal Khorlatsang of the Department of Home on 7 September 2018," said CTA's chief planning commissioner, Dr Kunchok Tsundue.
He said the Tibet Rice Mill project is aimed at generating additional income for Tibetan local farmers and establish sustainable and self-reliant Tibetan cooperatives.
As told by the members of Cooperatives, the products have been transported in bulk for promotional testing here in Dharamshala and will be showcased to the donor organizations.
The products are expected to hit the local markets soon.