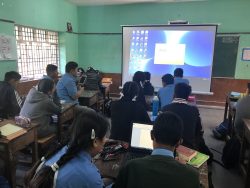 The Department of Education, CTA commissioned an Assessment of Education Strategies and Programme which was executed by ERU Consultants and Private Ltd, New Delhi in October 2017. As per observations and recommendations made by ERU regarding the use of ICT in schools, the Department of Education, CTA with the funding support from USAID, ICT Project was piloted in four Tibetan schools in FY18; Sambhota Tibetan Schools, Paonta, Tibetan Children's Village School, Chauntara, Tibetan Homes School, Rajpur and Bylakuppe Tibetan School which was taken over by STSS last year from CTSA Delhi. In FY19 ICT project was also piloted in four Tibetan Schools: STS Chandragiri, STS Kollegal, STS Mundgod and Upper TCV Dharamsala.
Provision of ICT Infrastructure
Laptops, tablets, projectors and printers were installed in classes from VI to X in the 4 piloted schools in FY 18 to equip the schools with advance ICT infrastructure facilities. The schools were also provided with cameras, speakers, voice recorders to be used by students and teachers to encourage and strengthen the hands-on and group learning in the classrooms, and to enhance the integration of ICT in teaching-learning process. As a part of safety measures, CCTV and fire extinguishers were also installed outside the classrooms and corridors in these schools. The ICT infrastructure is being used by about 900 students in the four schools. ICT infrastructure will be provided to 4 piloted school from April.
In four new schools 20 classroom technology corners (CTC) will be installed, with each CTC consisting of 5-8 laptops and tablets, an LCD projector, and internet connectivity. Provision will be made for students to borrow laptops and tablets for carry out group projects, presentations, and other ICT based learning activities during and after school hours. Teachers and students will also have access to a printer, scanner, digital video camera, and audio recorder to enrich the classroom learning experience. Classrooms will be refurbished to improve furniture, lighting and ventilation facilities. These improvements are expected to facilitate technology-based hands-on and collaborative learning in classrooms.
ICT infrastructure is also being improved in eight additional schools with limited resources. A total of 162 computers, 12 invertors and batteries, 8 photocopier machines, 1 LED television, 4 microphone systems and 7 Wi-fi modems and speakers will be provided to these schools.
In 2018 Sambhota Tibetan Schools Society, Dharamsala took over the administration of 8 Tibetan schools with the aim to improve the quality of education among the Tibetan students. The DoE with financial aid from USAID and through the ICT Infrastructure Improvement program provided ICT facilities to these 8 schools. This program will help integrate technology into classroom teaching and learning, increase collaboration among students, improve Higher Order Thinking skills and provide students with a hands on learning experience.
Certificate Course to enhance professional development
The DOE in collaboration with Tata Institute of Social Sciences (TISS), Mumbai initiated Integrated Approach to Technology in Education (ITE) and offered a 4-month Certificate Course on ICT and Education to 28 teachers from above four Tibetan schools. As a part of the course, these 28 certificate holders trained 177 other teachers in ICT and Education. Trainer-mentors will conduct school-based ICT workshops for 60 teachers in the four new schools where the EICT initiative is introduced in FY19, covering ICT-based learning theories and approaches, use of ICT tools, adoption of technology in schools and the role of teachers. In addition, school computer instructors in the eight schools receiving ICT infrastructure improvements will lead digital literacy workshops using a curriculum designed by the DOE. 130 middle and secondary level teachers will receive this two-month after-school training.
Smart class Technology
Smart classes provide an interactive atmosphere which results in more transparency between teachers and students and to improve the learning outcomes and grades of students. With the fund support from USAID under the Tibetan Education Project, the Department of Education, CTA installed 12 smart classes in four schools in FY 2012-13 in partnership with Educomp Solutions Ltd. The DOE also has renewed the license of 24 smartclasses in 12 Tibetan schools for 3 years in the FY 2018-19 in partnership with Ebix Smart class Educational Services Pvt. Ltd.
The ICT project has greatly benefitted the schools. The Department of Education (CTA) not just provided the ICT facilities but also introduced the Digital literacy for the teachers in those schools so they will make the optimum use of ICT facilities in the school. This will ultimately benefit the students in gaining the maximum amount of knowledge apart from the textbook.
Funds Approved:
2018 (TSRR): INR 133, 98,196 (USD 209,351)
2019 (TSRR): INR 159, 60,526 (USD 228,008)