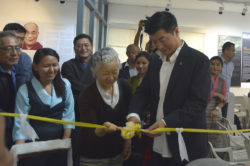 A launching ceremony was held at the Tibet Museum on 11 July 2018 for the 183-page book 'Costume and Jewelry of Tibet' by Mrs. Namgyal Lhamo Talka; a well-known author, Tibetan figure, and former Health Secretary of Central Tibetan Administration (CTA). The book contains records and photos of costumes, textiles, jewels, ornaments, etc. of Tibet.
At the ceremony, Mrs. Namgyal Lhamo said the idea of the book was sought after Gabriel Lafitte, a Tibetan research scholar, presented her with a book on Mongolian costumes in 1998. This helped her realize that there was no such book on Tibetan costumes and decided to make one herself. So she worked for the next 15 years studying and researching reliable articles and materials about Tibetan costumes before 1959. The research was augmented by elder Tibetans who shared rich details of traditional Tibetan costumes. Mrs. Namgyal Lhamo hopes that the book can influence young Tibetans to preserve and learn about their culture.
The ceremony attendees included CTA President Dr. Lobsang Sangay, Secretary Tenzin Dhardon Sharling (Equivalent), Department of Information and International Relations, Secretary Tenzin Lungtok of Department of Religion and Culture, Additional Secretaries of DIIR and other Tibetan intellectuals, writers, journalists and prominent personalities.
Dr. Lobsang Sangay stated, "While inside Tibet, systematic efforts are being made to sinicise the Tibetan culture, people, their religious and social life. This book will serve a great purpose in presenting the unique identity of the people of Tibet which is so well preserved in the book."