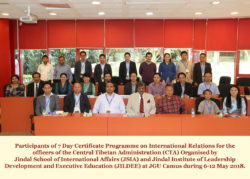 The Central Tibetan Administration (CTA) is the government for Tibetans and also Tibetans in exile. It aims to follow a government structure that provides basic necessities to Tibetans such as green books, funding for Tibetan projects, preservation of Tibetan culture, and more. However, in the past years, CTA has been running into many problems. A majority of CTA's employees have not received any formal training in leadership or public administration, the older generation of administrators are approaching retirement, and the role of H. H. The Dalai Lama is gradually diminishing. To tackle these problems, the CTA has initiated the Leader Development project using USAID funding.
One of the many implemented programs was the "7 Day Certificate Program on International Relations" organized by the Social and Resource Development Section under the Department of Finance. The event took place at the Jindal School of Government and Public Policy (JSCPP) from 6th-12th May, 2018 with an audience of 19 Secretarial Level CTA officials. The program was started with guests Lt. Gen. Dr. Rajesh Kochhar (retd). CAO & Senior Director, Jindal Institute of Leadership Development and Executive Education, JGU and Dr. Pankaj Kumar Jha, Assistant Professor, Jindal School of International Affairs, OP Jindal Global University. Many topics including Chinese Politics, Chinese Foreign Policy, Europe-China Relations, India's Role in South East Asia, Economic Diplomacy, Performance Enhancement, Maximizing Human Potential through Behavioral Competencies, US-China Relationship, Emerging New Technology, and Role of United Nations in International Relations were explored.
Participant Tenzin Tsultrim said, "As a research fellow at Tibet Policy Institute (TPI), the training was really useful. The topics discussed were related to the work I am doing, which are India-China relations and the development in Tibet. It felt like it was tailor-made for me. The training felt like a national conference due to the abundance of expert speakers from various backgrounds who shared their experiences. This experience was really an eye opener for me."
Additional Secretary of the Department of Information and International Relations Tsering Yankey, who also attended, added "Talking about China's foreign policy was helpful as it gave a lot of insight on the attitude of Chinese leaders. I learned the details of Xi Jinping's China Dream, China's Belt and Road Initiative, and more. As a staff member at DIIR, it is critically important for me to understand China and its position in global affairs and this training helped with that."
The program closed with a valedictory session and feedback collection from participants. After this, Jindal officials; col. Rajat Mathur and Lt. Gen. Dr. Rajesh Kochhar (retd) visited Dharamsala on 17th May, 2018 to receive feedback from CTA. This was followed by a discussion with SARD for any necessary revisions of the Training.