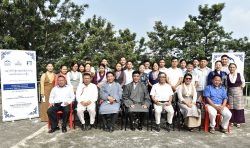 Dharamshala: The induction training for 21 newly recruited staff of the Central Tibetan Administration (CTA) convened today at College for Higher Tibetan Studies, Sarah.
The 13-day long training was inaugurated by Chief Guest Wangdu Tsering Pesur, Chairman of the Public Service Commission (PSC). Among the guests were the Secretary of PSC, Tsering Yangkyi, and members of the Public Service Commission, Naga Sangay Tender and Choeying Dhondup.
Passang Tsering, Principal of CHTS Sarah briefly introduced the objective of the training followed by unveiling a book "Normative Form and Diction of the Official Letters" authored by Professor Tsangtruk Topla who informed that the book aims to develop and refurbish the Tibetan language skills of the trainees before they begin their services.
 Mr Pesur applauded Tsangtruk Topla for his work and said that the book will suitably benefit the trainees during their course of service at the administration since the latter maintains all the documents in the Tibetan language. He also thanked the host institute for their contributions and assistance.
"Money is exhaustible in nature but one's knowledge can last forever," said Chairman Pesur to the new recruitments and advised them to make effective use of the opportunity. He also requested the abidance of the trainees to the institute's covid safety protocols given the possible resurgence of the covid third wave in India.
Secretary Tsering Yangkyi delivered a word of thanks to everyone involved particularly the USAID for funding the entire course of training.
During the 13 days of induction training, the trainees will be trained on Tibetan Literature, History, Communication skills, Noting and Filing System, Tibetan Constitution, Middle Way Approach and Buddhist principles among other subjects.