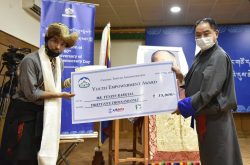 Dharamshala: Mr. Sonam Topgyal and Mr. Tenzin Rabgyal were selected for Youth Empowerment Award. They were felicitated with a Tibetan traditional scarf, certificate and a cheque of INR 35,000 during the official function marking 60th Tibetan Democracy day on 2nd September 2020.
Sonam Topgyal hails from Mundgod Doeguling Tibetan settlement. Since 2017, he has been running Brother's Cafe and Bakery at his own settlement after working at the Rein-Tree Hotel based in Chennai for 4 years. He has completed Diploma in Bakery and Confectionary from Chandigarh Institute of Hotel Management. His cafe provides service to the settlement people, schools and various monasteries on different occasions. Due to ongoing pandemic, he could not come to Dharamsala to receive the award so he was felicitated at the settlement's official function.
Tenzin Rabgyal escaped Tibet for India in 1984. He has completed 4-year training course in Thangka painting at TCV Suja after completing his 8th std. He has worked as a Thangka artist and painter at two different renowned institute in Dharamsala for 14 years post completion of his training. Since 2015, he has been running his own Thangka training center at Jogiwada where he not only sells Thangka but provides an opportunity to Tibetan and others get trained in the traditional Thanga arts. His work contributes to the preservation and promotion of traditional Tibetan arts. He was felicitated during the official function at T-Building, Gangchen Kyishong, Dharamsala.
Introduction of Youth Empowerment Award:
The award is an initiative of Youth Empowerment Support (YES) section of Department of Home, CTA and is designed to promote self-reliance through vocational education and encourage youth to become a contributing member of the community by starting a business.
The program will recognize two individual every year who have not only become self-reliant but are also contributing to the overall development of the community. It will recognize the exemplary youth who are currently self-employed after completing vocational education from any training institute and who has been running the business for min. two years & willing to continue the same.
The selected individuals are felicitated at the official function of the Tibetan Democracy Day on 2nd September at Dharamsala. Every year the announcement is made through the settlement office and other official channel. The applicant shortlisted by each settlement will be scrutinized at the head office and final two recipient will be selected by the Central committee.
The program is funded by USAID through SARD and Tibet Fund.
Mr. Tenzin Rabgyal receiving the award from Mr. Pema Jungney, Speaker of Tibetan Parliament in Exile.
Mr. Sonam Topgyal receiving the award from Mr. Lhakpa Tsering, Settlement officer of Mundgod Doeguling.
-Filed by Department of Home