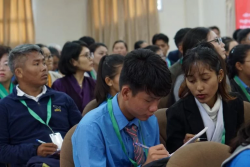 Dharamshala: The first of the four days workshop for Peer Educators of Adolescent club began today under the initiative of the Department of Health, CTA. The workshop on dealing with building life skills for adolescent development was attended by Secretary of the Department Palden Dhondup, Jampa Phuntsok, Additional secretary, Tsering Youdon Joint secretary, Tenzin Kunsang, Deputy Secretary and Reka Chauhan trainer from Expression India.
There are a girl and boy from 31 Tibetan schools across India. The similar workshop has been given to the counselor, teachers and staff in preceding years, but survey proved that the workshop would be more impactful and effective if it is given to the students so as to create more awareness and reach it to a larger group of students. There are around 60 participants in this workshop. The workshop is held at Club house, Mcleod Ganj.
Meanwhile, another workshop is being provided to the teachers who have come along with the students. Each teacher from 32 schools will attend the substance abuse review meeting cum workshop for the four days at Hotel Tibet, Mcleod Ganj.
Jampa Phuntsok, Additional Secretary of the department in his introductory remarks gave a brief introduction to the workshop and the issues of the adolescent age group and substance abuse.
In the inaugural speech by the Health Secretary, Palden Dhondup mentioned the importance of educating the youngsters about health issues particularly the psychological and biological issues during the adolescent period. He remarked on the importance to uphold and guide the teenagers and importance to teach about the adolescent health to the youngsters.
About Parents role in guiding the children during the adolescent period, Secretary said "Parenting skills during the stage of adolescence bears significance too. Teenagers at this age tend to be curious about a lot of things and sometimes due to negligence strays to the wrong path. This is when parenting skills are required to teach and guide them to the right path."
He further advised the teachers and the students to engage and talk with the students going through hard times rather than excluding them.
He requested the participants to actively engage and participate in the workshop and to put forward questions and doubts rather than staying quite and timid. He said, "Students who are here, will be representing your respective schools, so it is necessary to be voice of your school."
Lastly, Tsering Youdon, Joint secretary of the Department delivered the vote of thanks.
The 4 days workshop entails interactions, brainstorming, powerpoint presentations, videos, group discussions and role-play related to the topic of the workshop.
The workshop will be led by Rekha Chauhan, Expression India trainer.