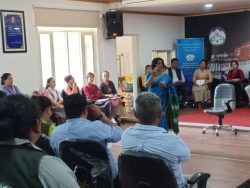 Dharamshala: The Department of Health in collaboration with a team of NIMHANS (National Institute of Mental Health and Neurosciences) is currently organising a life skill workshop for 54 school teachers, counsellors of 21 Tibetan Schools located in North and North Eastern Part of India from 13th to 16th May 2019.
The workshop is funded by USAID, this is the 7th workshop conducted and the first workshop was initiated in 2017. The aim of the workshop is to inculcate skills in teachers, counsellor and school staffs to help an adolescent deal with various issues such as bullying, puberty substance abuse, sexual harassment, etc. through life skill approach. Life skill approach helps adolescent to build self-awareness, confidence, problem-solving mechanism and decision-making ability and communication skill among others.
An earlier similar workshop was carried out with NIMHANS in Bylakuppe for South India's Central Tibetan Schools Teachers. Department of Health through RMNCHA program supported by USAID also supports 29 schools in India to strengthen adolescent engagements in POSCO club activities in schools. New Rewa book on adolescent issues and CBSE manuals on life skill are also distributed during the training.
RMNH coordinator Ngawang also visited the schools in the southern region to monitor the program.