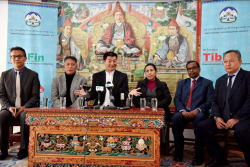 Dharamshala: The Social and Resource Development Fund (SARD), Department of Finance rolled out a new Summer Livelihood Support Programme for 2019, under which CTA will provide loans worth a total of Rs 12 Crores (120 Million) at a minimal 3% interest rate to support Tibetan Summer businesses across India.
President Dr Lobsang Sangay unveiled the loan product today at a press conference held at the Kashag Secretariat. He also formally announced that the Gangjong Development Finance Private Limited, also called Gangjong Finance, was now a legitimate Non-banking Financial Institution registered with the Reserve Bank of India (RBI).
Finance Kalon Karma Yeshi, Chief Planning Officer Dr Kunchok Tsundue, CEO Ram Mohan Rao, Finance Secretary Yeshi Wangmo and Chief Resilience Officer Kaydor Aukartsang attended the press conference.
President Dr Lobsang Sangay said the Livelihood support program is primarily aimed at Tibetans based in India and envisions to strengthen the self reliance and sustainability of Tibetan community in exile by helping them thrive economically, help sustain and grow viable businesses through its low-interest loan services.
Kalon Karma Yeshi, Department of Finance remarked that the program boasted a 100 percent on-time repayment rate in the first two years of its implementation i.e. 2017 and 2018.
"In 2017, the Livelihood program benefited more than 913 Tibetan winter sweater sellers, of which 42% were owned by women. The loan amount was repaid 100% by February/March of 2018." He acknowledged the support and cooperation of Tibetan settlement officers, local assemblies, regional sweater sellers associations in the smooth return.
Kalon hoped this year too the amounts will be repaid fully and on time. "This will not only help us expand the livelihood support program in future but will earn the trust and admiration of our funders."
A recent survey undertaken by SARD revealed there are over 35 well-established summer retail markets all over India with 1594 shops. Based on the selection criteria, SARD selected 13 markets for the inaugural Summer Livelihood Support Programme. Approximately 600 Tibetans are going to benefit from this programme.
Dr Kunchok Tsundue, the Chief Planning Officer of the Central Tibetan Administration briefly introduced the SLSP program and the legal registration of Gangjong Finance with RBI.
This year's Summer Livelihood Support Programme will benefit over 600 Tibetan beneficiaries operating in 13 Tibetan Summer retail markets across India. The program will be implemented from February this year, providing loan packages of Rs 2 lakhs to each beneficiary.
"The summer Livelihood Support program is to support the community members whose major business activity is in summer season. The size and number of the summer businesses are smaller than the winter sweater Sellers, but the summer business segment is more organized," said SARD.
Speaking on the legal registration of Gangjong Finance, CEO Ram Mohan Rao said the firm has mapped an ambitious plan for the subsequent years. "Now that we have secured the license, we are a legitimate financial institution in India. This is only the first step. Slowly with building a track record for the institution and with sufficient capital, we may try for a banking license. When it becomes a bank, it will be an exclusive bank for Tibetans. That is our dream but this was our first step."