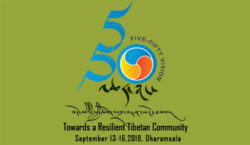 Social and Resource Development Fund(SARD) under the Department of Finance of the Central Tibetan Administration (CTA) is organizing Five-Fifty Forum: Towards a Resilient Tibetan Community. The Forum will focus on the development and long-term resiliency of CTA's Five-Fifty Vision and is to be held from September 13-16, 2018 in Dharamsala. It will be a gathering of selected experts, advisors, practitioners, donors, community representatives, and friends who are deeply engaged with the issues that the Forum will address.
The primary purpose of the Forum is to help the Tibetan leadership and the community to investigate, and find innovative solutions to address core questions related to the four Forum themes of Cultural Preservation, Economic Development, Education, and Health. Please click here for more information on the four themes and the various related issues that the Forum speakers and participants will address.
We have reserved 25 seats for open applications. We would like to invite Tibetans and friends who are interested in the four themes and can make a contribution to the success of the forum. Young Tibetan professionals are especially encouraged to apply.
Interested candidates are requested to send in their resume to:

[email protected]

Please state why you are interested in attending and how you can contribute towards the Five-Fifty conference? (Max.150 words)

Deadline:

30 June, 2018