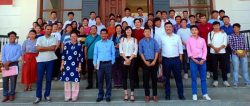 The TED Entrepreneurship Hub Program in collaboration with the Dalai Lama Institute of Higher Education (DLIHE) organized its first ever Business plan Competition on 17th March, 2019 at its premises as a part of the DLIHE-Entrepreneurship Hub program to cultivate and inspire entrepreneurial mindset in the community's youth. 10 student groups participated in the competition, which was judged by a panel comprised of serial entrepreneur Ms. Seldon Tenzing, Mr Dawa Tsering, the Vice-Principal of the institute and Mr Tenzin Norsang, TED Program Officer.
25 students participated in the competition with more than 45 students taking part as audience. The winner, first runner-up and the second runner up were business ideas focused on promoting healthy living through a bike rental enterprise, an online puja offering services, and manufacturing and branding of quality Tsampa products respectively. The winning entries were awarded cash prizes of Rs 5000, Rs 3000, and Rs 2000.
The TED Entrepreneurship Hub Program aims to promote and cultivate entrepreneurial thinking and develop a cohesive entrepreneurship ecosystem in the youth community. The program is funded through TSRR program by the USAID.
TED is an initiative of the Social and Resource Development Fund (SARD) under the Department of Finance, CTA. It offers programs and services to students, aspiring entrepreneurs, and current business owners at all stages of their business development. More information is available at: www.tibetanentrepreneurs.org