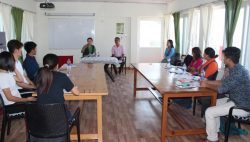 Dharamshala: Tibetan Entrepreneurship Development (TED), an initiative of the Department of Finance, organised the 5th Business Development Support Training program for its 2019 batch of Tibetan Entrepreneurs who will be starting their business from July. The function was graced by the Finance Secretary Yeshi Wangmo.
This is the first time TED has ever started to provide Business Development Support at its newly established Incubation Center.
The selected Tibetan Entrepreneurs have been identified for the TED program through an intensive selection process which focused on the scalability of the business, the viability of the business plan and their potential positive impact on the Tibetan community.
A total of 6 businesses were selected for the training program. The entrepreneurs will receive training and support from highly trained professionals from various fields.
The incubation center boasts of workspaces equipped with everything they need for the training sessions during their pre-incubation phase of the program.
Finance Secretary Yeshi Wangmo gave a brief talk on the vision and aim of the TED program. She also motivated the entrepreneurs by talking about the potential positive impact that the selected entrepreneurs can create in the community and scope of future possible contributions.
TED's Pre-Incubation program combines a rigorous curriculum with the practical experience sharing sessions by successful entrepreneurs, mentors and investors.
TED is an initiative of the Central Tibetan Administration (CTA) aiming to mobilize and amplify Tibetan entrepreneurial spirit by fostering, nurturing, accelerating value-add connections and celebrating entrepreneurship. TED aims to affect the profound transformation of the Tibetan community-in-exile with its role as a mobilizer of the Tibetan entrepreneurial spirit to partake in global opportunities and contribute to the community's economic well-being. In doing so, TED aims to support existing businesses' expansion and sustainability, as well as convert high-potential youth business ideas into successful ventures.