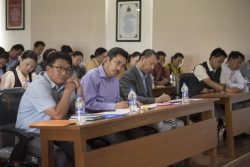 Dharamshala: "The domain of education is ever-evolving. Schools are redefined as learning communities; teachers and school leaders are the new educational leaders who collectively enable such environment," remarked Kalon Dr Pema Yangchen, Kalon of Department of Education.
Kalon said this in her opening remarks at the 'Teacher Professional Development and Leadership workshop' for Tibetan school heads and teachers here in Dharamshala.
Her talk culminated into a brilliant presentation on the enhanced role of teachers and principals as educational leaders, redefining schools as learning communities, new educational models and other innovative aspects of school development.
"Teachers can no longer stick to age-old methods and school administrators can't simply function within the administrative walls," Kalon said, challenging them to move beyond their traditional roles and attune themselves with the ever-evolving teaching-learning process.
Citing some of the latest research findings in education, Kalon explained how the role of teachers has shifted from "knowledge provider to knowledge enabler."
In addition, the positive impact of engagement and collaboration among teachers and administrators in the teaching and learning process which she thoroughly explained, citing decades of her expertise in the education field.
"Don't just be 'the' educational leader, be 'a' educational leader and introduce a leadership team. Effective schools are one which enables vigorous learning community; an inclusive environment that supports continuous learning for students as well as the educational leaders.
Further the sharing of knowledge, new practices, methods and ideas among the teachers and administrators will not only strengthen their capacity, but it will also impact the policies of the school and as a result, promote the overall quality of education.
While acknowledging the shrinking rates of enrollment in Tibetan schools as a concern, Kalon asked the school leaders to look at it as an opportunity to effectively enhance the instructional quality and greater opportunities for the students given the smaller demographics.
Tenzin Dorjee, head of the traditional and modern section of the Department of Education introduced the agenda of the six-day workshop.
The agenda includes over 27 sessions focused on professional and leadership development of teachers and administrators: Teaching portfolio-its importance and components by Dr Pema Yangchen; Four domains of teaching responsibility by Tenzin Dorjee; Eight verses of training the mind by Geshe Lhakdor, Director, LTWA; Effective school leadership for school excellence by Karma Chungdak, General Secretary of Tibetan Homes Foundation and dozen others.
The workshop will conclude on 1 June.