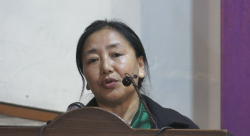 Dharamshala: The Department of Education, CTA inaugurated the eight-day 'Leadership Workshop for Class X Students' programme at Lower TCV school. Presided over by Chief guest Kalon Dr Pema Yangchen, Department of Education; Traditional and Modern Academic Section, Head, Tenzin Dorjee; Education Council, Ngodup Tenpa and staff members of the Department of Education, the inaugural ceremony began here this morning.
This programme is held every year, an initiative of the Department of Education and this is the 7th time since its inception. This year a total of 28 Tibetan schools and over 280 students are participating.
Under the 14th and 15th Kashag, Education has assumed the topmost priority among the other undertakings.
Kalon Dr Pema Yangchen, Department of Education in her inaugural address said, "The necessity of realising the value of education and recognising the privilege that present-day Tibetan students receive over their Indian peers for whom data reveal that a mere 32 out of a 100 are able to complete their schooling, despite the fact that education is a constitutional right for them. Looking at your own home, the intergenerational difference that exists between students today with their parents and grandparents in terms of educational opportunities is vast."
"Simultaneously, you should also realise the responsibility of education. A person who recognises that is one who will naturally have a positive influence on his community. There is scientifically supported evidence that a person who feels gratitude than another who focuses on unfulfilled expectations, has a more compassionate nature and is likely to enjoy a peaceful state of mind and good physical health."
"Students should appreciate the kindness of His Holiness the Dalai Lama on whose formal request separate Tibetan schools were established in India, and the efforts of their parents and the Tibetan administration. His Holiness has termed the year 2020 as the year of repaying kindness."
"While pursuing education, one should look at what you can do for your community with the knowledge and skills gained, and not just focus on being self-sufficient. Keeping these broader aims in mind, one should plan accordingly."
She laid emphasis on learning the Tibetan language to the students. "Out of the nearly 7000 languages spoken around the world, only half of these have a script. So it is a matter of pride for us that we have our own script. You should learn Tibetan through school and beyond, by reading Tibetan language newspapers that will improve your Tibetan language skills. You should try to learn the spelling of words and comprehend them. Speak purely in Tibetan as much. And do the same when you are speaking in English or any other language. Tibetans in Tibet do not have that opportunity to learn their own language under China's policies and Tibetans living in the West, can only learn Tibetan on weekends that has been possible through the combined efforts of parents and local leaders. As such, learning your own language is a must, particularly in leadership roles within the Tibetan community."
In her final message, Kalon emphasised on reading regularly and promoting it as a habit in one's social circle. She also pointed out the necessity for students to form study groups as they grew older to improve learning efficiency.
"Studying in groups reduces the burden on the individual and also fills the gaps in knowledge, clarifying doubts, listening to what others have to say while testing it, and it is teamwork as opposed to being a lonely task." She also urged the students to interact with their peers from other schools during this workshop.
Head of Traditional and Modern Academic Section, Department of Education, Tenzin Dorjee gave his address by providing the background to the programme and more importantly, the vision and purpose for organising the workshop.
"This workshop is very important because the present students of class X are our future. In the 21st century, knowledge in these areas is critical for future leaders of our community: Gender Equality, Principles of Non-violence, Issues of Adolescence, Cyber Safety and Security, Conservation of Tibet's Environment, Critical Thinking, Evolution of Tibetan Democracy, Leadership and Skills."
He acknowledged the efforts of the staff of Lower TCV school and TCV Gopalpur in organising the workshop and expressed his hope that all the participants would collectively strive to make this programme a success.
Education Council, Ngodup Tenpa gave the thank you address in which he thanked the staff of Lower TCV School and others who were involved in ensuring the programme went smoothly, on behalf of the Department of Education. He also acknowledged the funding received from USAID.