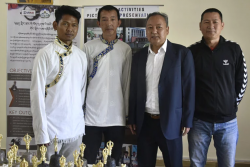 Dharamshala: Integrated Settlement Development Plan (ISDP) under Department of Home is organizing a two-day exhibition on 22nd and 23rd April. This exhibition will exhibit the artifacts and religious items that were produced by 13 youth of Kham Lingtsang Society in Dehradun during their 5 months training. The project was funded by the USAID.
Exhibition was inaugurated by Dr. Kunchok Tsundue la, Chief Planning Officer at conference hall, Department of Finance.
He highlighted the importance of preserving and promotion of Tibetan culture through these unique artifacts. He further mentioned that there are few skilled and experienced artisans who excel in bronze casting and polishing artifacts in our community and how important it is to sustain those skills within our community especially by the younger artisans.
Three young artisans from Lingtsang society were present at the event and they explained about the process of making the artifacts on display which includes sand preparation and molding, smelting metals and preparation of unique alloys, casting and designing, sound creation and development, etc.
The Department of Home through its Integrated Settlement Development Plan (ISDP) organised a workshop on 'Training on bronze casting and polishing artifacts' for the youth of Kham Lingtsang Society in Manduwala, Dehradun. The workshop began on 1 August and concluded on 31 December 2018. 11 boys and 2 girls have participated in the workshop.
The objective is to ensure the preservation and promotion of Tibetan Bronze Artefacts casting in the 21st century through imbibing innovation and training younger artisans.
Key Outputs:
Trained 13 young Tibetans including 2 women received professional training in unique traditional craft skills from 5 masters.
Learnt modern casting technologies and methods from IIT, Kharagpur
Produced 4 types of traditional Tibetan artefacts from scratches to end product.
Obtained coveted craft marks for 3 well-established artisans for their authentic products and processes.
Key Outcome:
50% of the trained youth started or continue their family tradition and enters into the production unit of their own
100% members of the society showed supports for the young artisans; inspired and renewed commitment to continue with their tradition as a part of Tibetan cultural preservation.
50% of the well-established artisans begun implementing innovations into the current processes by acquiring metallurgical tools and techniques.
Total budget provisioned is 12,54,280
Future Outlook:
10 Artisans expecting to be trained in die casting and die molding.
One community Induction Melting Furnace E-5/ E-10/E-20 to be set up to avoid casting hazards.
5 Artisans expecting to be trained in gilded bronze statue through industrial dies.
Remodel and revive traditional Bronze casting technologies in the 21st century with above in the lines of 17th century Tibetan artefacts.