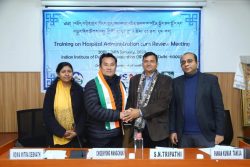 The Department of Health, CTA is organising five-day training on hospital administration cum review meeting at the Indian Institute of Public Administration (IIPA), based in New Delhi from 20th to 24th January 2020. This five-day training is being attended by 12 hospital administrators and Executive secretaries from 12 different hospitals. CTA Health Kalon Choekyong Wangchuk attended the opening ceremony as the chief guest and inaugurated the hospital administration training. Director of IIPA, Shri S. N. Tripathi, IIPA Associate Professor Dr. Roma Mitra Debnath, IIPA Assistant Professor Dr. Pawan K Taneja, DOH Deputy Secretary Kunsang and DOH OSM Program Coordinator Mr. Tsering also attended the event.
Health Kalon in his inaugural address said, "Through such training, DoHe hospital administrators should strengthen their expertise to make health facilities more efficient and self-reliant that can ensure access to quality health care for the general population. High out of pocket expenditure on medical costs, the growing expectations for quality health care, underutilization of hospital resources, the weak financial status of health facilities and changing health-seeking behavior are some of the key challenges before our health facilities. Therefore, hospital administrators should focus on ensuring efficient and effective management of the hospital to reverse the trend". Kalon also highlighted the various public health programs of the Health Department such as Community outreach care (CCOCC), Hepatitis B prevention program, TB program, TMS and Integration of Sorig and Allopathic healthcare.
At the outset, DOH OSM Program Coordinator Mr. Tsering briefed the participants on the training's aims and objectives. He said that the training is aimed at learning modern management techniques in hospital functioning. This hospital administration training will be led by various experts in the field of hospital management, public health, and health systems.
The interactive training is providing Tibetan health facility administrators with the latest skills and tools for efficient and effective management of their hospitals that will help improve hospital services for the settlement population. Topics to be covered include the categories of charitable and nonprofit institutions, hospital-related legal provisions, patient safety regulations, waste management regulation, Medio-legal case management, leadership and team management, public health program management, human resource and inventory management, resource mobilization, and self-sustainability.
Deputy Secretary, Tenzin Kunsang delivered the vote of thank address. The training is funded by USAID and organized by the Department of health CTA in collaboration with IIPA-Delhi.
-Filed by the Department of Health