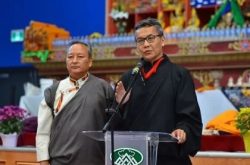 Dharamsala: A senior CTA delegation comprised of Kaydor Aukatsang, CTA's Chief Resilience Officer, Dr Kunchok Tsundue, CTA Chief Planning Officer, will be visiting Switzerland, Austria, Germany, France and the Netherlands from November 15-30, 2019. The purpose of the visit is to educate and mobilize support for Gangjong Development Finance (TibFin), one of the most important initiative under the CTA's Five-Fifty Vision.
The delegation will visit Zurich and other Swiss locations from November 15-19 and 29-30, Salzburg on November 20, Vienna on November 21, Bonn on November 22, Paris from November 23-25, and Amsterdam from November 26-28. The visit is being facilitated by the Offices of Tibet in Zurich, Paris and Brussels and the local Tibetan community associations in the five cities.
The upcoming Western Europe tour follows on the heels of the successful tour undertaken in North America in July 2019 where Tibetans residing in Canada and the United States pledged over USD1 million in investments towards transforming TibFin into the first Tibetan Small Finance Bank.
For Tibetan investors residing in Europe, TibFin has two offerings: a minimum of EUR/CHF 15,000 in equity shares and a minimum of EUR/CHF 25,000 in short-term preference shares redeemable in five years with an annual dividend rate of 1.5%
The mission of TibFin is to provide affordable capital, financial services, and financial literacy to Tibetan entrepreneurs and promote Tibetan Micro, Small and Medium Enterprises (MSMEs). TibFin is currently operating as a licensed Non-Banking Financial Company (NBFC). In its current form, CTA has since 2017 through its Livelihood Support Programme disbursed a total of 2643  financial support totalling USD4.3 million. The goal is to apply for a Small Finance Bank (SFB) license so that TibFin can operate as a full-fledged bank that can not only make loans but also accept deposits, take on debt and provide all other banking services. The investments pledged from Tibetans In Europe will go towards meeting the capitalization requirements of receiving a SFB license.
TibFin is one of the most important initiatives undertaken by the CTA to ensure the long term sustainability and resilience of the Tibetan community. Participation and support of as many Tibetans as possible is critical to ensure the success of this initiative.
Please contact your Office of Tibet and your local Tibetan Associations for specific community meeting times and venues in each location.