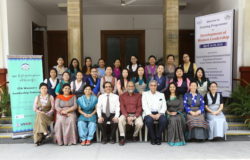 The Women Empowerment Desk (WED) of the Central Tibetan Administration (CTA) facilitated and organized a five-day leadership development workshop for 22 CTA women staffs. The workshop was held from 16-20 April, 2018 at the India Institute of Public Administration (IIPA), New Delhi. IIPA was made by India's first Prime Minister to boost knowledge of public policy and governance through applied research and education. The workshop was funded by USAID.
A study found that the promotion of leadership and decision making training for women increase their participation in various affairs and strengthen their desire to take on bigger responsibilities and positions. For that reason, WED created the workshop to promote women in leadership roles in the Tibetan and CTA community by allowing them to develop their leadership, decision making, and communication skills.
The content of the training included: understanding personal strength and barriers for being a successful and an authentic leader, effective communication, leadership styles, role of women in the society (role model-case study), gender bias, stress management, emotional intelligence, values and ethics in governance, conflict management, E-governance and cyber hygiene, team dynamics and building, and negotiation skills. These topics were executed by distinguished speakers Gen. Rajesh Sahai, Prof. CV Ramanan, Dr. Pankaj Vasudev, Prof. Sushma Yadav, Dr. Nupur Tiwari, Dr. Shruti Gupta, Dr. Surabhi Pandey, and Dr. Angele Dhengle.