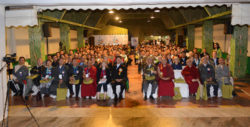 Dharamsala: Over 200 experts on leadership, resource mobilisation, health, education and senior officials of Central Tibetan Administration as well as CTA donors gathered at the Five Fifty Forum on Resilience that began Thursday to discuss critical development, resiliency challenges, opportunities in the Tibetan community and explore innovative solutions.
Against the backdrop of Five-Fifty Political Forum and Five Fifty Youth Forum, the Five-Fifty Forum: Towards a Resilient Tibetan Community had a resounding start here with key remarks by President Dr Lobsang Sangay, Deputy Assistant Administrator for Asia, USAID, Ann Marie Yastishock, Kalon Karma Yeshi, Department of Finance and SARD Director and CTA Chief Resilience Officer Kaydor Aukatsang.
The Forum is being organised by Social and Resource Development (SARD), Department of Finance. The Forum is also a part of the Tibetan Self-Reliance and Resilience (TSRR) program funded by USAID.
The Five-Fifty Forum on Resilience is a follow-on to the political gathering convened in October 2017 and the youth gathering in August 2018. It focuses on the development and long-term resiliency objectives of the Five-Fifty Vision.
The Forum has been acknowledged and congratulated by the Tibetan spiritual leader, His Holiness the Dalai Lama.
"I am happy to know that the Central Tibetan Administration is organising a Five Fifty Forum: Towards a Resilient Tibetan Community.
"It is important not to be complacent, content merely with what we've become used to. We should move with the times, keeping with the way the world is changing. This may involve new ways to thinking and setting a clear vision for the future," His Holiness' message reads.
Ann Marie Yastishock, Deputy Assistant Administrator for Asia, USAID addressed the Forum on 'USAID and Strengthening the Resilience of Tibetan Community in Exile'.
"For the Tibetan community to realise its full potential much depends on the development path it continues to chart today. USAID is committed to supporting development decisions that continue to move you forward on your continued journey on self reliance and help achieve the objectives of the Five Fifty Vision.
"Through the Tibetan self reliance and resilience program, the CTA, Tibet Fund and USAID are all working together to put into place, policies and programs that strengthen the Tibetan diaspora community.
"One of the tangible examples on how the Tibetan community has accelerated its self reliance is the establishment of the new local financial institution and non banking financial company that addresses the critical need of Tibetan enterprises for startup and expand capital, thus boosting household and community wealth."
CTA President Dr Lobsang Sangay said in his inaugural remarks, "The Five Fifty Forum on Resilience comes on heels of the Five Fifty Forum: Shaping Tibet's Political Future and the Youth Forum. The Five Fifty Resilience Forum will specifically focus on strengthening Tibetan resilience and has brought together a select group of government donors and representatives of international supporters of CTA.
"We welcome our donors and supporters to assess and witness the progress we have made in our education, health, economic self reliance and entrepreneurship. Also, to strategise future implementations and resilience projects."
Expressing his expectations from the Forum, Kalon of Department of Finance, Karma Yeshi said curation of the themes and background literature for the four-day Forum were a result of six months of indepth review and discussion among the organisers and moderators.
Kaydor Aukatsang, Director of SARD and CTA Resilience Officer, said that CTA's Five Fifty vision ultimately calls for maximising efforts to resolve the Tibet issue but the leadership has an added responsibility in view of the critical development inside Tibet and exile and to address resiliency challenges and opportunities and new ideas.
The themes of four-day deliberations are Sustaining Tibetan Culture; Economic Development of Tibetan Community; Strengthening Tibetan Education; and A Healthier Tibetan Community.
Theme 1 will address issues related to defining Tibetan culture, Tibetan language, Tibetan Buddhism, the role of museums and cultural institutions, and Tibetan arts.
Economic Development will focus on migration and youth-related issues, agriculture, financial services, entrepreneurship and role of Tibetans living overseas.
Theme 3 Education will address quality of education issues, school leadership, demographic challenges, Basic Education Policy and nurturing professionals.
Theme 4 will look at health challenges faced by the Tibetan community, financial stability of the Tibetan health system, capacity building, expansion and integration of Sowa Rigpa (Tibetan Medicine), and alternative service delivery modes and preventive care.
The Plenary sessions scheduled to begin tomorrow will feature a keynote address by President Dr Lobsang Sangay and introductory remarks by Kalon Karma Gelek Yuthok, Department of Religion & Culture, Kalon Sonam Topgyal Khorlatsang, Department of Home, Kalon Karma Yeshi, Department of Finance, Kalon Dr Pema Yangchen, Department of Education and Kalon Choekyong Wangchuk, Department of Health.
Key forum plenaries will be streamed live on Tibet TV Facebook Page.
The Forum will conclude on 16 September.