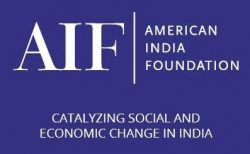 The American Indian Foundation (AIF) and CTA's SARD entered into a partnership on March 22, 2019. Under the partnership, AIF will commit to placing two Fellows from their William J. Clinton Fellowship for Service within CTA for a period of ten month starting September 2019. The first two Fellows will deployed at SARD where they will serve with the Tibetan Entrepreneurship Development (TED) and the Women's Empowerment Desk (WED). Additional Clinton Fellows in subsequent years may be placed within other CTA departments as well. With this partnership, SARD, CTA is now a partner organization of AIF.
The AIF is an American nonprofit founded in 2001. It seeks to catalyze social and economic change in India and build a lasting bridge between the United States and India through high-impact interventions in education, livelihoods, public health, and leadership development. Working closely with local communities, AIF partners with NGOs to develop and test innovative solutions and with governments to create and scale sustainable impact.
The Clinton Fellowship for Service named after former United States President Bill Clinton is an immersive, 10-month volunteer service program matching young professionals with development organizations. Fellows work on scalable and sustainable development projects in the fields of education, livelihoods, and public health.
Fellows are American or Indian citizens with ages between 21 and 34. They hold a minimum Bachelor's degree. Applicants have to sit for an in-person interview held in major cities in the United States and India every April. They are required to submit two references prior to the interview. Successful candidates are notified of their qualification to the shortlist, enabling them to apply for individual projects in the Project Portal on AIF's website in May. AIF and its partner organizations (such as SARD) will then interview candidates for each project. Based on these interviews and an assessment of which candidates have the strongest alignment of skills required for the projects, the final Fellowship class will be selected. Fellows will officially be admitted and offered a place into the program in July.
"We are pleased to enter into this relationship with The American Indian Foundation. We look forward to receiving The Clinton Fellows who represent the next generation of Indian and Indian-American leaders. Through this partnership, SARD and CTA will benefit from the service and expertise of some of the best and brightest young leaders and in exchange the Fellows will learn about the Tibetan community and the work of the CTA," said Kaydor Aukatsang, Chief Resilience Officer and SARD Director.