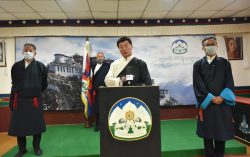 Dharamshala: The CTA has made available INR 3.3 crore for Wuhan COVID-19 programs benefitting Tibetan communities in India and Nepal. INR 24,340,514 are for activities in India while the community in Nepal receives NPR 13,757,974. Support for this effort is coming from the United States government's Bureau for Population, Refugees and Migration (PRM), a long-term donor of the Tibetan refugee community in South Asia. Kashag directed SARD to begin the process of identifying funds to support vulnerable destitute Tibetans on April 2, 2020, and Sikyong directly wrote to the PRM leadership on April 8 as well. This is the first large support package approved by the CTA as the Tibetan community confronts the unprecedented challenges posed by the ongoing pandemic.
INR 16,289,355 will be spent on health programs in India. Activities being supported through this package include strengthening the hospital infection control and emergency medical service; infection prevention control measures in quarantine facilities; purchasing of test kits, community awareness and sanitization campaign; and strengthening the health workforce. Major activities include:
· Hiring of 40 medical and non-medical staff on contract/stipends for 20 volunteers/fees for 8 mental health counsellors – for 3 months
· Distributing traditional Tibetan medicine package to 11,051 elders
· Emergency medical supplies for 33 health facilities
· Emergency medical supplies for 8 COVID treatment centers
· Supplies and furnishing for 10 quarantine centers
· Rental of 30 ambulances
INR 6,161,789 will be spent for programs under the Home Department. Major activities include:
· Medical supplies and food rations for 700 elders in 21 elder homes
· 2-3 months food security rations for 635 destitute refugees (INR 4000 per person)
· 3 months food security stipends for 155 disadvantaged elders over 65 and living alone (INR 9000 per person)
The package also includes food security stipend for 297 students from destitute households at INR 1,000 per student
The Nepal program includes NPR 2,315,520 for hiring medical and non-medical contract staff and stipends for volunteers; NPR 3,260,000 for food supplies for 6 COVID quarantine centers; medical supplies and food ration for 116 elders in 6 elder homes; Tibetan medicine package for 1500 elders and those with weak immune systems; and NPR 7,282,400 for food security rations for 200 destitute and disabled refugees; 3-month food security stipends for 350 disadvantaged elders over 65 and living alone at NPR 14,400 per person; and food security stipends for 14 students from destitute households at NPR 1,600 per student.
"We are grateful to PRM for making the emergency funding available. While the pandemic poses a huge health risk, it has also placed some of the most vulnerable Tibetans – elders and destitute – at great risk. The CTA leadership has through this package taken care of the immediate healthcare needs and also provided protection to our most vulnerable," said Kaydor Aukatsang, Chief Resilience Officer and SARD Director.