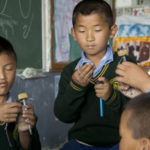 The Central Board of Secondary Education (CBSE) declared the Class 10 Board Examination (AISSE) results 2018 on 29th May afternoon. Out of 1269 Tibetan students who appeared in the All India Secondary School Examination (also known as AISSE) held in March 2018, 1110 students passed, 150 students were placed in the compartment category and 9 students could not clear the exam. The compartment students have to sit for the compartment examinations in July 2018
The overall pass percentage was 87.47 and the average percentage was 59.91. Girls, with a pass percentage of 89.91, did better than the boys by 5.2 %, who registered a pass percentage of 84.71. A total of 16 students scored more than 90 %.
Out of 16 Tibetan schools which had students appearing in the exams, TCV Suja, TCV Gopalpur, STS Paonta, CST Darjeeling, CST Bylakuppe and TNMF Clement town produced hundred percent pass results.
Tenzin Tsundue of TCV Selakui topped the Science stream with 93% Tenzin Topden of TCV Bylakuppee has topped the Commerce stream with 94.2%, and Kachok Wangmo of Tibetan Homes Foundation, Mussoorie, has topped the Arts stream with 92%.
The Gaden Phodrang award given for excellence in studies will be awarded to Kachok Wangmo (92 %) of THF Mussoorie, Dawa Lhamu (91.8 %) of TCV Suja and Dorjee Wangmo of TCV Gopalpur (90 %) from Arts Stream. From science stream, Tenzin Tsundue (93 %), Sonam Palmo (91.2 %) and Chika Yamasaki (88.2 %) from Science Stream all belonging to TCV Selakui, are winners of the Gaden Phodrang scholarship.
From commerce stream, Tenzin Tobden (94.2 %), Tenzin Tsekey (92 %) and Tenzin Nyima (89.2%), all from SOS-TCV Bylakuppe are the winners of the Gaden Phodrang Scholarship.
However, no student was able to win the Sikyong Scholarship for which the requirement is 95% with a minimum of 75 marks in Tibetan.