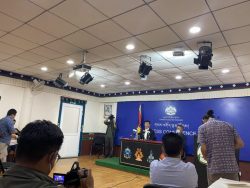 Dharamshala: The Social and Resources Development Fund (SARD), Department of Finance, CTA today launched a comprehensive study of "Tibetan diaspora community outside South Asia" at the press briefing chaired by CTA President Dr Lobsang Sangay and Finance Kalon Karma Yeshi.
CTA President Sikyong Dr Lobsang Sangay and Finance Kalon Karma Yeshi officiated the ceremonial launch of the baseline report.
Speaking at the launch, Sikyong said, "This is the first study of the Tibetan communities based abroad, outside of the traditional exile communities of India, Nepal and Bhutan. The Tibetan population is now, divided 50/50 between those within India, Nepal and Bhutan and those outside of South Asia. Therefore, it is important to learn the social, cultural, political status of the diaspora communities. "
"I had submitted to the Kashag in 2004 a report entitled "Tibet 2020" where I predicted that by 2020 the Tibetan population would be equally distributed in across those in exile Tibetan communities and those outside which would affect governance style as settlement population would decrease and subsequently less footfall in hospitals and children in schools. In that view, I had proposed "reconfiguration and restructuring" of governance. This report validates my projection as parity has been achieved between the two communities."
He observed that recommendations proposed after the research on areas of governance, programmes/activities, Tibetan weekend schools, Community Centres, Greenbook, strengthening Tibetan associations, new initiatives by CTA, etc will provide the present and future Kashag a roadmap for robust governance.
Sikyong added, "Under the 14th and 15th Kashag, we have initiated some of it such as the provisions of textbooks by Sherig to Tibetan weekend schools and workshops for teachers. We had planned to convene annual summits of Tibetan weekend schools in Europe as held in the US. As well as planned to bring international Tibetan associations to Dharamsala for a global summit."
Sikyong highlighted the initiative to launch multi-lingual news programmes on Tibet TV to reach the Tibetan diaspora and to connect Tibetans and supporters to the Tibetan movement. He also emphasized the necessity for global advocacy by playing active role inside the government agencies.
Ending on a note of caution, Sikyong urged Tibetans to be ever more vigilant against the risk of coronavirus outbreak in the Tibetan community now that travel curbs has been lifted across the country. "It is our utmost responsibility to ensure the safety and wellbeing of His Holiness the Dalai Lama's health safety and smooth functioning of the CTA so that we continue to serve Tibetans in India and worldwide."
In his remarks, Kalon Karma Yeshi, Department of Finance said, "Due to the Wuhan-originated coronavirus pandemic, the Department of Finance and SARD organised April 2-4 'Global Summit of International Tibetan Associations' based in Europe, North America, Australia in Dharamsala had to be cancelled. The findings of the report on the status of Tibetan communities based outside South Asia were to be presented at this summit which was undertaken by researchers Lobsang Choedon and Tenzin Dolkar. After deliberation with the concerned offices, they distributed questionnaires formulating 12 major points and 100 minor points to study the status of Tibetan communities under the Offices of Tibet. The report is a success which has been drawn from the data received by the various offices such as the census."
Finance Kalon highlighted the main recommendations of this study:
1) to upgrade the Greenbook dues collection process, 2) how Tibetan associations could support CTA initiatives, 3) Tibetan associations initiate programmes to strengthen Tibetan communities bond,  4) facilitate Tibetan weekend schools, 5) arrange Community Centres 6) networking with religious groups and organizations 7) strengthen relations between TAs and CTA.
He concluded by thanking all those involved in the research undertaking led by Finance Department and the Department of Information and International Relations, Offices of Tibet, the Researchers and the Tibetan associations for their service.