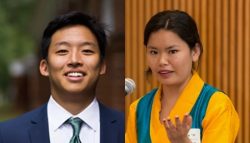 In March 2019, CTA's SARD entered into a three-year partnership with the American Indian Foundation (AIF) through which AIF committed to place two of their William J. Clinton Fellows each September for a service period of ten months. The Fellowship is named after former United States President Bill Clinton.
SARD is pleased to announce that after a very rigorous application and selection process, AIF selected Tenzin Dolkar Tsagong and Chenam Barshee as the first two Fellows to be placed at the CTA and both have started their service and will be with CTA through June 2020. Tenzin is serving at the Women's Empowerment Desk (WED) where she will be working on the SGBV Helpline, doing a research project, and supporting WED's fieldwork. Chenam will be managing TED's Entrepreneurship HUB program, supporting the MSME Development work and undertaking a research project where he will profile some of TED's successful entrepreneurs and success stories.
"The AIF program is open to young American and Indian citizens between the ages of 21-34 and we are especially pleased that the first cohort of Clinton Fellows selected to serve the CTA are two very talented and committed young Tibetan-Americans. We look forward to their service at SARD's WED and TED programs," said Kaydor Aukatsang, SARD Director and Chief Resilience Officer.
Tenzin was born in Kathmandu and raised in Brooklyn, New York. She graduated from Bowdoin College in Maine, U.S. in 2016 with a degree in Political Science. She interned at the Tibetan Women's Association in 2013 and spent two years at the Sarah College for Tibetan Higher Studies studying Tibetan language and Buddhist Philosophy.
Chenam is a first generation Tibetan-American from the Washington, DC area. He is a graduate of the University of Virginia's Frank Batten School of Leadership and Public Policy where he co-founded a lifestyle snack company aimed at introducing mindfulness into daily life. He is a former dhangshabpa of Tibet Corps and has also volunteered at Yindayin in Queen's New York.
Eligible Tibetans are encouraged to apply for the AIF Clinton Fellowship. Information is available at www.aif.org