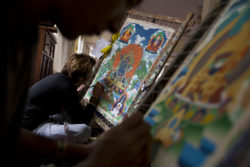 The Department of Religion and Culture (DoRC) selected twelve recipients for the 2018 Tibetan Arts and Culture Fund (TACF). The annual grants program recognizes and supports individual artists and organizations based in South Asia and working to preserve and promote Tibetan art and culture. Grants ranging from INR 150,000- to Rs.300,000 are awarded. A total of 26 applicants applied for the 2018 program. The program is made possible through support provided by USAID under the Tibetan Resilience and Self-Reliance Program.
The following are the twelve recipients with brief descriptions on the work that the grants will support:
INR 150,000 to Rangdon's Clay Statue Skill preservation. The funds will be used towards purchasing materials required to make statues and to rent a bigger storage space for the statues.
INR 300,000 to Tibetan Karma Gardri Traditional Art of Thangka Painting in Bir, Himachal Pradesh. The grant will enable the painting of more Dzongchen Thangka which will be displayed to the general public and in museums. The program will also train 15 Tibetan youth in Traditional Thangka painting.
INR 300,000 to Milarepa Preservation Association (MPA) in Dekyiling, Uttarakhand to purchase new costumes for mask dance. MPA was established to revive, preserve Tibetan culture and to protect kartok festival in exile which is commemorated from every 12th to 16th of seventh month as per Tibetan lunar calendar.
INR 270,340 to Shalu Gonpa from Paonta to make Mandala base support wooden platform, assemble and to support the art of creating a sand mandala associated with Kalachakra Tantra & Aachaal Deity. The grant will help to sustain the tradition of conducting pujas connected with deity practices complete with elaborate sand mandala symbolizing complete body mind and wisdom attributes after the sacred Kalachakra Tantra.
INR 300,000 to Sonam Tseten from Dharamsala to make a documentary film on Tibetan Buddhist death ritual. The documentary called "Creative Yak" will document the practice of ritual conducted by Dharamsala-based death ritual master Karma Dakpa. The documentary will be screened in film festivals and made available on social media.
INR 3,00,000 to the Norbulingkha Institute to publish 6 books of Tibetan Encyclopedia. These volumes introduces and provides information on renowned individuals in the modern and contemporary Tibetan history.
INR 300,000 to Tsewang Topla from Dharamsala to write and publish a book on Tibetan history.
INR 1,85,000 to Tenzin Kunchok from Bangalore to produce two books on Je Tsongkhapa's work on poetry and commentaries made by other expert.
INR 2,70,000 to Nyenthar from Varanasi to produce the first ever Tunhuong related index books in Tibetan Language. The Tunhuang manuscripts are a cache of important religious and secular documents discovered in the Mogao Caves of Tunhuang, China, in the early 20th century. The majority of the manuscripts are in Chinese and other languages. The manuscripts will be a major resource for academic studies in a wide variety of fields including, history, religious studies, linguistics, and manuscript studies.
INR 3, 00,000 to Sonamling Culture Association in Ladakh to purchase costumes and Tibetan traditional music instruments.
INR 1,50, 000 to Gangjong Doeghar Association of Kalimpong founded in 1994 to purchase recording studio equipment and to broaden the platform for professional trained artists to reach broader audience.
INR 3, 00,000 to Dangla Riwo Association in Dharamsala to publish four volumes of Drong Ngur Choezo- Dharma Treasure of Drong Ngur. During the Cultural Revolution in Tibet, most of the scripts were either burned or scattered. The association has copied the scriptures from old text.