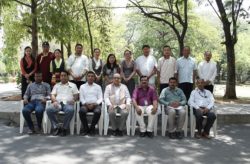 One-week capacity building training program on skill development and entrepreneurship for the Program Director and coordinator of various training institute began on 6th May at the National Institute for Micro, Small and Medium Enterprise (NI-MSME), Hyderabad.
The opening day was presided over by the Director of the institute Mr. Sanjeev Chaturvedi, faculty members, trainers and participants from the various training institute.
The program convened with the lighting of the butter lamp by Director of the Institute Mr. Sanjeev Chaturvedi, Sandeep Bhatnagar, Director of Marketing & Business Development, Mr. Vivek Kumar, training coordinator and few representative from the participants followed by the short introduction of the institute and their program by the Director of the Institute and Mr. Sandeep Bhatnagar.
11 participants representing 6 training institutes in India and Nepal are taking part in the capacity building training program.
Speaking on the expectation from the training program, Mr. Thupten Samphel, Director of the SOS training institute based in Nepal expressed "I expect to build my competency so as to build and develop the skill training program of my institute in the best way and also to learn more about the entrepreneurship in order to make our youth more self-reliant and sustainable".
Another participant, Ms. Tenzing Migmar from ENVISION program based in New Delhi stated" As our organization mostly works with the youth, my expectation from this workshop is to understand the various employability skill required in today's job market and to learn about how to develop collaboration with likeminded institute.
The training coordinator Mr. Thupten Rinzin informed that the purpose of organizing this one-week training is to provide more learnings and exposure to the Program Director and coordinator on skill development and entrepreneurship. The training serves as a platform to share ideas and exchange experience & lessons among the participants. It also builds a closer association among the different institute for better working relation and partnership in the future.
The training is a part of the capacity building program of Youth Empowerment Support (YES) section of the Department of Home (DoH), Central Tibetan Administration.
The training program is funded by USAID.
-Filed by Youth Empowerment Support, DoH