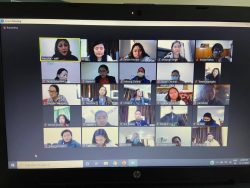 Women's Empowerment Desk under SARD, Dept. of Finance (CTA) has organized a Five-day Training of Trainers (TOT) on Gender and Gender-Based Violence (GBV) from 10th -13th & 17th November 2020. The objective of the training is to foster and build capacity within the Tibetan community as well as to enable open discussions on the issues of gender and GBV.
The training was held virtually via ZOOM and was joined by 25 participants from diverse social backgrounds and regions such as Tibetan NGOs, local grassroots women, students, and community members across India. Through this training, participants were trained on facilitation skills on conducting workshops on Gender and gender related issues. It focused on the methodology of the training, the concept of sex, gender, gender-based violence, and CTA sexual and gender-based violence guidelines.
These trained trainers are expected to continue building their expertise to become trainers and facilitators of gender workshops, apply the knowledge that they have gained in their daily work and to become an agent of change in the community. They will also work closely with WED in creating awareness, building a gender-sensitive Tibetan community, and other related programs under WED.
 This training was facilitated by Ms. Nandita Bhatt from Martha Farrell Foundation, an organization based in New Delhi. The training is supported by USAID under the Tibetan Self-Reliance and Resilience (TSRR) program.