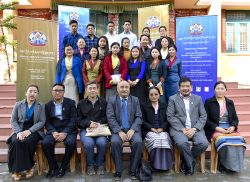 The Induction program organized by Public Service commission, Central Tibetan Administration (CTA) which includes two month of training for the new batch of CTA staff recruits started on 5th November 2018 at Administrative Training and Welfare Society Centre, Dharamsala. This batch has an overwhelming majority of women with 14 among the 18 recruited.
The two month induction training will include sessions on introduction of various departments in CTA, Tibetan Charter in exile, the Middle way approach, CTA budgeting, language training , 'Ethics in Governance',  and  computer skill development by the famed NIIT.
This program aims to provide the latest recruits with language proficiency, understanding of various activities and policies undertaken by CTA in the areas of Health, Education, Finance, Development to ensure they are well equipped to serve the community at best of their capabilities.
This training is generously being funded by USAID.