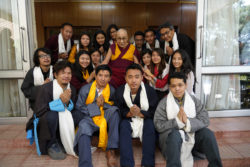 15 Tibet Corps dhang-shab-pas (volunteers) working under the Central Tibetan Administration (CTA) attended a two-day program from 4-5 June 2018. Tibet Corps is a volunteer program that gives Tibetan university students, professionals, and retirees a platform to provide service and give back to their Tibetan community.
The first day of the program began with an audience with His Holiness the Dalai Lama at his residence in Mcleod Ganj. His Holiness commended the dhang-shab-pas on their service and commented on the success of the Tibetan refugee community and intelligence of the Tibetan people. "As long as the exile Tibetan Administration is running efficiently, we will be able to preserve our rich culture and traditional knowledge. Otherwise, it will be difficult," he said.
Jigme Yanchen, Tibet Corps Coordinator, stated that the opportunity to meet the Dalai Lama was her favorite part. "The program started off with meeting His Holiness the Dalai Lama which was a great start. I didn't expect His Holiness to spend time to talk to us because there were so many people. I was extremely inspired by what he said."
The program continued in the afternoon with talks from Paljor Kalon Karma Yeshi la titled Introduction of CTA and Ms. Dhardon Sharling, DIIR Secretary, discussing the Current Situation in Tibet and CTA's International Advocacy. In the evening, thedhang-shab-pas gathered at the Kashag building to have dinner with the CTA President, Dr. Lobsang Sangay who was extremely welcoming to the dhang-shab-pas.
Tenzin Choenyi, a Tibet Corp volunteer, said "I loved having dinner with the CTA President. We had a private dinner with him and because of that, we were able to talk to him with a smaller audience and get to understand him in a more personal way."
The next morning started with a tour of the Tibetan Parliament and a talk from Khenpo Sonam Tenphel, Speaker of the Tibetan Parliament-in-Exile, who explained the inner workings and history of the parliament. This was followed with a talk from Geshe Lhakdor la, Director of the Library of Tibetan Works and Archives (LTWA). Geshe Lhakdor spoke on Buddhism, happiness, and preservation of Tibetan culture. Next, Mr. Kaydor Aukatsang, SARD Director and Chief Resilience Officer, held a talk titled Towards a More Resilient CTA and the Tibetan Community where he discussed CTA's future plans and path to resilience. The last talk took place at the Tibet Policy Institute (TPI). Thubten Samphel, Director of TPI, spoke about TPI, its mission, and its research. Many employees at TPI also appeared to explain their research. The program concluded with a dinner with all Tibet Corps volunteers at Pema Thang restaurant hosted by SARD.