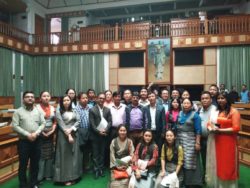 The Public Service Commission (PSC) of the Central Tibetan Administration (CTA) assembled a ten-day capacity building workshop for 21 junior level staff members. It was facilitated from 7-16 May 2018 at the Himachal Pradesh Institute of Public Administration (HIPA), Shimla. The event was a part of the Tibetan Self Reliance and Resilience Program to develop the staff's knowledge of leadership, public administration, government, ethics & values, administration, motivation, stress management, communication, time management, conflict resolution, and more. The 28 sessions were held by HIPA faculty and non-HIPA presenters including Sh. Deepak Sanam, IAS, (Retd.); Sh. Krishna Mohan, IAS (Retd); Sh. Abhay Sharma, faculty; Sh. S.R Mardi, IPS; Sh. Virender Sharma, HAS; Ms. Vinod Jindal, Director(MoUDN); Sh. Saurabh Raj Sood, Manager, SJVNL; Dr. Rajeev Bansal, Dy. Director, SIRD HIPA; Dr. S.K Goel, EO(retd) HAS; Sh. R.K Sharma, Dy. Auditor General, AG-HP; Sh. Ajay Chahal, SIO, NIS, HP; Sh. Pravesh Kumar, Core faculty, HIPA. The participants were also able to visit Chail and Vidhan Sabha for exposure.
Section Officer Pema Dechen of Social and Resource Development Fund (SARD) was a participant. She said "I joined CTA in 2003 and this is the first time for me to attend something like this. The resource people were high ranking Indian officials who came to speak about their experiences and how to deal with administrative work. I learned about stress management, workplace attitude, and time management which was useful for me. My favorite speaker and talk was Director General Police Mardi of IPS. He talked about his personal experience, attitude change, and values. I also like the "exposure on e-vidhan" session because I learned how to run parliament without paper-it was all on computer."
These topics were decided on because of their practical nature in the work place. After the workshop was completed, the participants were asked to give feedback but they were all satisfied and desired to come again in the future.