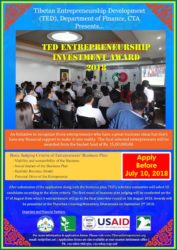 The Tibetan Entrepreneurship Development (TED) initiative under SARD, Dept. of Finance is launching its 4th Game Changers Annual Conference and 4th TED Investment Award. Both are being held from 18-19th August at Bylakuppe Lugsam.  
Game Changers Conference is a platform for Tibetan entrepreneurs to network, innovate, and collaborate. The conference invites business leaders, investors, and industry experts to give the participants an opportunity to gain insights from the experienced mentors. The opportunity to attend panel discussions and workshops are also available.
The TED Investment Award Competition takes place during the Game Changers Conference. The Investment Competition is a two-day seed fund business competition to help identify entrepreneurs who offer brilliants business plans but do not have the finances to support their ideas. An announcement was made 10 June for the upcoming event. TED sent out the notification to all the settlement offices and will receive applications from the offices. The last day to send in applications for the Investment Award Competition is 10 July 2018.
TED will select 10 applicants on 17 August to take into the first round in which three judges will interview the applicants and decide on six finalists. The finalists will then go onto the final round where they must pitch their ideas to the same three judges in front of a live audience. The winners will be awarded prizes of up to a total of INR 15 Lakhs.